Kraft Heinz Q1 Earnings Top Estimates, Sales Fall Y/Y
The Kraft Heinz Company (KHC - Free Report) posted first-quarter 2022 results, with the top and the bottom line declining year over year. Earnings and net sales surpassed the Zacks Consensus Estimate. Management raised its organic net sales guidance for 2022.
The Kraft Heinz Company Price and Consensus
(Click on image to enlarge)
The Kraft Heinz Company price-consensus-chart | The Kraft Heinz Company Quote
Quarter in Detail
Kraft Heinz posted adjusted earnings of 60 cents a share, beating the Zacks Consensus Estimate of 52 cents. Quarterly earnings declined 16.7% year over year mainly due to reduced adjusted EBITDA. The impact of divestitures and escalated taxes were a downside. The downside was somewhat offset by reduced interest costs.
The company generated net sales of $6,045 million, down 5.5% year over year. Net sales included an adverse impact of 11.2 percentage points from divestitures net of acquisitions and an unfavorable currency impact of 1.1 percentage points. Net sales beat the Zacks Consensus Estimate of $5,790.6 million.
Organic net sales increased 6.8% year over year. KHC stated that pricing rose 9 percentage points year over year, reflecting growth in all segments. The upside can be attributed to measures undertaken to counter increasing input costs across retail and foodservice channels. Volume/mix fell 2.2 percentage points on supply constraints. The constraints were somewhat offset by solid demand for products in retail. Also, the continued rebound in foodservice channels offered some respite.
Gross profit of $1,931 million declined 12.3% from $2,201 million reported in the year-ago quarter. Adjusted EBITDA fell 15.1% to $1,342 million, reflecting the adverse impact of divestitures and unfavorable currency translation. Management highlighted that adjusted EBITDA reflected increased pricing and efficiency gains, which were more than offset by escalated commodity costs and supply chain costs.

Segment Discussion
United States: Net sales of $4,214 million declined 8.5% year over year. During the quarter, pricing moved up 9.3 percentage points, but the volume/mix fell 2.1 percentage points.
International: Net sales of $1,444 million were up 3.6% year over year. Pricing moved up 8.2 percentage points and the volume/mix fell 1.5 percentage points.
Canada: Net sales of $387 million inched down 1.5% year over year. Pricing moved up 8 percentage points, but the volume/mix declined 5.5 percentage points.
(Click on image to enlarge)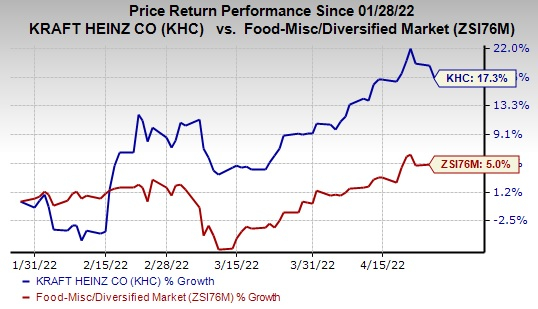 Image Source: Zacks Investment Research

Other Financial Aspects
Kraft Heinz ended the quarter with cash and cash equivalents of $2,978 million, long-term debt of $20,970 million, and total shareholders' equity of $49,644 million. Net cash provided by operating activities was $486 million for the three months ended Mar 26, 2022. The company generated a free cash flow of $272 million during this time.
In a separate press release, Kraft Heinz declared a quarterly dividend of 40 cents per share payable on Jun 24, 2022, to shareholders of record as of May 27.

Guidance
Kraft Heinz expects to deliver robust financial results in 2022. Management raised its organic net sales view for 2022. The company now expects the metric to increase by a mid-single-digit percentage compared with the year-ago period. Earlier it had anticipated organic net sales growth in the low-single digits. The revised outlook reflects solid to date performance, continuing momentum in the business, and more pricing actions undertaken to mitigate inflation.
Adjusted EBITDA is still expected to be in the $5.8-$6 billion range, with a 48% to 52% first-half to second-half split. The view reflects the 53rd week in 2022, effects of divestitures, and solid organic net sales. The view also reflects Kraft Heinz's continuing efforts to manage inflationary pressures.
This Zacks Rank #3 (Hold) stock has increased 17.3% in the past three months compared with the industry's 5% growth.
Disclaimer: Neither Zacks Investment Research, Inc. nor its Information Providers can guarantee the accuracy, completeness, timeliness, or correct sequencing of any of the Information on the Web ...
more