Is DigitalOcean Stock A Buy After Its IPO?
DigitalOcean stock began trading on the NYSE in March. The initial public offering brought in $775 million for the company.
Unfortunately, the DigitalOcean IPO did not come too hot out the gate. Initial shares sold for $47, but the price dipped as low as $41 – about 12% lower – once shares went live. The company's prospectus estimated a price somewhere between $44 and $47, and it still has not managed to climb back to that level.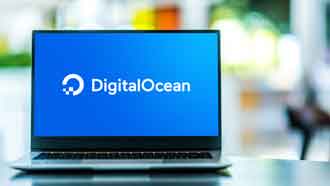 The share price seems to have stabilized at $43 since then. Whether it stays there or not is a different story.
Sometimes, when a stock is lower than anticipated, it could mean a buying opportunity.
Software stocks like DigitalOcean have made a splash in the last year. In 2020, we saw the biggest software IPO in history with Snowflake, hitting $75 billion market cap on opening day.
That means the competition in this space is heavy. The good news, however, is that cloud computing is still a vast, untapped universe of potential for products.
How does DigitalOcean stack up? Let's find out…
What Is DigitalOcean?
DigitalOcean Holdings Inc. (NYSE: DOCN) is a New York-based cloud infrastructure company with servers all around the world.
Cloud infrastructure is basically when you take a bunch of servers to create an exclusive "web" on which to store information and run different kinds of programs. It's kind of like virtual real estate.
A company that owns a cloud network, like DigitalOcean, can sell or rent its server space for others to use as their own virtual networks. Amazon Web Services (AWS) is a big-time example of this. You wouldn't be able to stream Netflix Inc. (NASDAQ: NFLX) if Netflix was not hosted on AWS.
Of course, there are many ways to go about this. Cloud companies can specialize in serving different industries like defense, mobile banking, cloud gaming, and much more.
Cybersecurity is a prevalent use of the cloud in the defense and finance industries, but it's not limited to that. All the functionality of an app, like streaming speed on Spotify, could depend on the quality of the server.
Disclaimer: Any performance results described herein are not based on actual trading of securities but are instead based on a hypothetical trading account which entered and exited the suggested ...
more