IPO Preview: Ichor Holdings
Ichor Holdings (Nasdaq: ICHR) filed its S-1/A with the Securities and Exchange Commission, announcing its upcoming initial public offering. The company plans to sell 5.75 million shares of its common stock at a marketed price range of $12 to $14. It also has an additional 862,500 shares as an over-allotment option for its underwriters. The underwriters for the IPO include: Deutsche Bank Securities, Stifel, RBC Capital Markets, Cowen and Company and Needham & Company. Assuming Ichor Holdings prices at $13, the mid-point of its price range, Ichor Holdings would have a market capitalization value of $318.01 million.
Business overview
Based in Fremont, California, Ichor Holdings designs, engineers and manufacturers fluid delivery subsystems to the makers of semiconductors. Their primary offerings include: gas and chemical delivery subsystems, collectively known as fluid delivery subsystems. Their gas delivery subsystems are used in semiconductor manufacturing processes, such as etch and deposition, for the purpose of monitoring and controlling quantities of the specialized gases used.
The chemical delivery subsystems blend and dispense reactive liquid chemistries used in processes such as electroplating and cleaning. Lam Research Corporation (Nasdaq:LRCX) and Applied Materials, Inc. (Nasdaq:AMAT), are the company's two largest customers accounting for 57% and 38% of sales in 2015, respectively.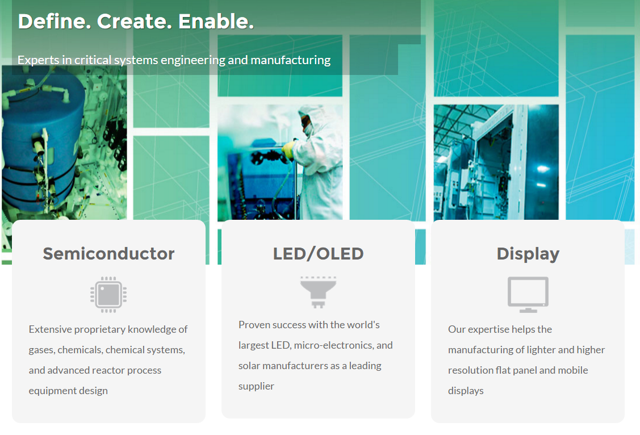 (Source)
Executive management overview
Thomas M. Rohrs has served as the chief executive officer of Ichor Holdings since Sept. 2014 and as executive chairman and director of the company since Feb. 2012. Before joining Ichor Holdings, Rohrs served as the chairman and chief executive officer of Skyline Solar from 2010 to 2012 and as the chairman and chief executive officer of Electroglas from 2006 to 2009. From 1997 to 2002, Rohrs served as the senior vice president of global operations of Applied Materials.
From 1992 to 1997, he served as the vice president of worldwide operations for Silicon Graphics. Rohrs holds a Master of Business Administration from Harvard Business School and a Bachelor of Science in mechanical engineering from the University of Notre Dame.
Disclosure: I/we have no positions in any stocks mentioned, and no plans to initiate any positions within the next 72 hours.
Disclaimer: I wrote this ...
more