Invitation Homes Could Dip With Upcoming Lock-Up Expiration
July 31, 2017, concludes the 180-day lock-up period on Invitation Homes (NYSE:INVH).
When the lock-up period ends, its executives, directors and pre-IPO shareholders will have the chance to sell 225M shares, previously restricted since the firm's IPO.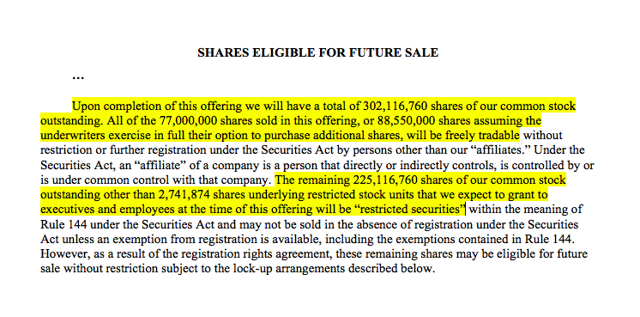 (S-1/A)
The possibility of a sudden increase in available stock on the open market may significantly pressure INVH's shares, creating a small window of opportunity for experienced investors to short the stock.
Our firm's research has shown significant price declines surrounding many IPO lockup expirations. This holds particularly true for firms like INVH, with a large percentage of shares locked up, along with a strong team of underwriters and successful IPO.
We suggest selling or shorting INVH shares ahead of the event. See our IPO Insights platform for additional details.
Business Overview

Dallas, Texas-based Invitation Homes rents out single-family residences and has reported strong revenue growth, mainly due to recent housing trends. The company, a subdivision of Blackstone Group L.P. (NYSE:BX), has benefited from a solid real estate market in the U.S., which is increasing home prices and forcing millennials to rent rather than buy.
With 50,000 units, Invitation Homes boasts the largest inventory of rental properties, most of which is centralized in locations with increasing property rates.
For additional details, see our previous articles on INVH here and here.
Management Highlights
CEO and President John Bartling has served in these positions since November 2014. Mr. Bartling's previous experience includes positions at Credit Suisse (NYSE:CS), First Boston, Lexford Residential Trust, Walden Residential, AllBridge Investments and Ares Management (NYSE:ARES).
Financial Overview
By snapping up smart investments and taking advantage of the current housing trends, Invitation Homes has reported an increase in rental revenuefrom $558 million in the nine months ended September 30, 2015, to more than $654 million in the nine months ended September 30, 2016. Although the company did report a net loss over those same periods, that loss was significantly lower in 2016 than 2015.
Disclosure: I am/we are short INVH.
Disclaimer: I wrote this article myself, and it expresses my own opinions. I am not receiving compensation for it. I have no business relationship with any ...
more