Investing Legend Sees "Spectacular" Crash In "The Next Few Months"
Two weeks ago, investing icon Jeremy Grantham turned apocalyptic and warned that the "Bursting Of This "Great, Epic Bubble" Will Be "Most Important Investing Event Of Your Lives." Since then the market has generally continued to melt up, yet Grantham's conviction that all this will end in tears has only grown, and in an interview with Bloomberg today, the co-founder of GMO who correctly called the last two crashes, now predicts that Joe Biden's economic-recovery plan will propel stocks to perilous new heights, followed by an inevitable crash.
"We will have a few weeks of extra money and a few weeks of putting your last, desperate chips into the game, and then an even more spectacular bust," the value-investing legend said in a Bloomberg "Front Row" interview.
"When you have reached this level of obvious super-enthusiasm, the bubble has always, without exception, broken in the next few months, not a few years."
Amid market euphoria the likes of which have - literally - never been seen before as the following chart from Citi shows.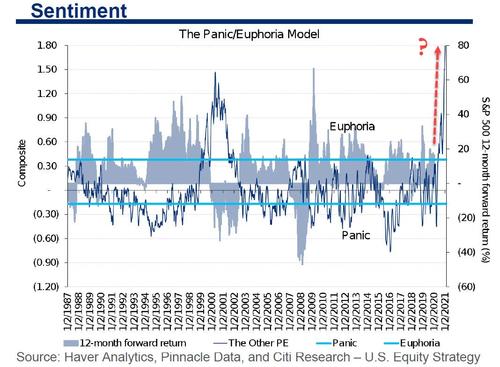 This prompted Citi, BofA and Goldman to all warn that a selloff appears imminent, and which was fueled by risk-taking behavior funded by the latest round of pandemic-relief checks, Grantham has "no doubt" at least some of the $1.9 trillion in federal aid Biden is seeking from Congress will end up being spent on stocks instead of food or shelter.
While that will help push stocks even higher, Grantham then sees it all ending in tears, or rather a collapse rivaling the 1929 crash or the dot-com bust of 2000, when the Nasdaq cratered 80% before recovering thanks to trillions more in Fed "stimmy" checks.
And while some (increasingly fewer) investors claim that today's valuations are justified by the growth potential of transformative technologies and new business models, Grantham, 82, dismisses that argument as fanciful, and rejects the popular theory that the Federal Reserve can cushion or even the next crash with even more QE or easing.
Disclaimer: Copyright ©2009-2021 ZeroHedge.com/ABC Media, LTD; All Rights Reserved. Zero Hedge is intended for Mature Audiences. Familiarize yourself with our legal and use policies every ...
more