Invest In 3 Top-Performing Sectors For Gains In 2H21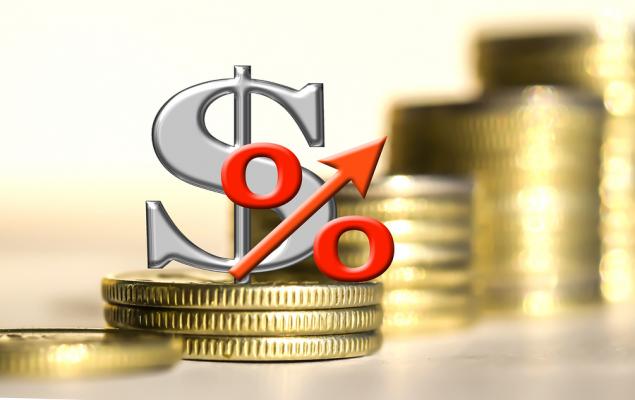 Image: Bigstock
The overall market trend has remained extremely bullish in the past few weeks, courtesy of the significant drop in COVID-19 cases and acceleration in vaccination drive. The S&P 500 Index and Dow Jones Industrial Average have been displaying a rally and reached their respective all-time highs of $4,371.60 and 34,893.72 last Friday. The Nasdaq Composite too touched the milestone on Jul 7 ($14,755.33).
It seems that the financial market remains totally unscathed by the ongoing turbulence related to the looming Delta strain concern. The ongoing bull run across all coveted benchmarks is also a clear indication of the investment world becoming enormously upbeat about the soon-to-be-reported Q2 earnings.
Q2 Earnings-Led Bull Rally Ahead
Our latest Earnings Preview indicates a strong trend of earnings surprise with total Q2 earnings for the S&P 500 Index expected to be up 61.6% year over year on 18.1% higher revenues. While a consistent rebound in businesses across several sectors since the beginning of 2021 has increased confidence, the easy year-over-year comparison with the severely COVID-hit Q2 months of 2020 primarily resulted in such an optimistic projection.
Will the Rally Last Long?
While Wall Street is hopeful about a similar bull run in the second half of the year, the job market data showed an unexpected rise in last week's jobless claims, indicating a contradictory state. The U.S. Department of Labor's data for the week ending Jul 3 showed an increase of 2,000 in the initial unemployment insurance weekly claims. When business operations across almost all the sectors are getting back to normalcy, this rise in initial claims for unemployment benefits, which is a proxy for job loss, is once again fueling concerns. This, when added to June's job market report showing a 5.9% rise in the overall unemployment rate, indicates bumpy roads ahead.
A few of the market watchers are however of the view that this scenario might not last. With the gradual economic rebound, there will be curtailing of existing benefits that are currently associated with the pandemic-support unemployment packages. This will force people to take new jobs down the line.
Amid this uncertainty, the ongoing bond market situation to projects a bearish view in terms of economic recovery. Last week, the 10-year U.S. Treasury yield reached the lowest point since February. While it was still much above the pandemic lows, the latest fall is indicative of concerns surrounding slower global economic growth amid emergence of deadlier COVID-19 strains.
A Jul 9 Bloomberg report says, "China's central bank cut the amount of cash most banks must hold in reserve, while the European Central Bank on Thursday indicated it will tolerate an inflation overshoot, implying an even longer period of the loose policy." Meanwhile, the United States has added 14 companies to its economic blacklist, which are claimed to be involved in certain human rights violations in Xinjiang— further deepening the ongoing Sino-U.S. tension.
Stable Sectors to Gain in the Rest of the Year
In the current situation, investors should definitely invest in the best-performing sectors for secure gains. Apart from healthcare that has been providing essential and elective support, digital health as well as critical care support, there has been notable job gains in leisure and hospitality, retail, social assistance, and in professional and business services in 2021 so far. Technology companies have also boosted investor confidence with a consistent rally based on increasing cloud infrastructure spending.
YTD Share Price Performance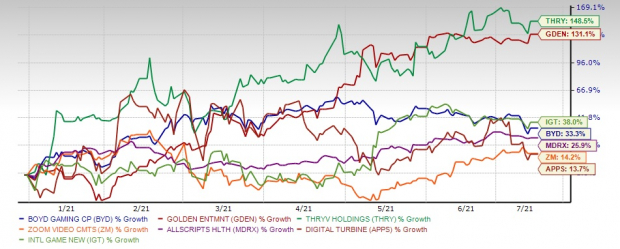 Image Source: Zacks Investment Research
3 Sectors to Bet on Now
Gaming: Through the months of the pandemic, game developers' share prices touched new highs. Cloud video games particularly have taken up a huge portion of people's time of late, thanks to high-speed Internet and growth in cloud platforms. Surprisingly, despite the recent slowdown in the severity of the pandemic, demand for gaming stocks continues to remain northbound. Data by Mordor Intelligence shows that the global gaming market is expected to register a CAGR of 9.64% over the forecast period of 2021 to 2026. This is boosting gaming stocks like Boyd Gaming Corporation (BYD Quick Quote BYD - Free Report), Golden Entertainment, Inc. (GDEN Quick Quote GDEN - Free Report), and International Game Technology (IGT Quick Quote IGT - Free Report), all with a Zacks Rank #1 (Strong Buy).
Digital Health: Already a lot has been said on the growing prosperity of the digital health sector amid the pandemic on growing awareness related to contactless services. Despite the U.S. government's measures to make both telemedicine and remote patient monitoring mainstream over the past few years, primarily to minimize healthcare costs and increase access of care, the sector struggled to receive mass acceptance. Digital health will sustain its momentum this year as well, as mutations of the virus have led to several variants, which in turn have increased the risk of infections. Even beyond the pandemic, digital health is expected to maintain this strength as healthcare professionals and patients leverage its benefits. With this, we suggest investors add Allscripts Healthcare (MDRX Quick Quote MDRX - Free Report) to their portfolio for lasting gains. The stock currently carries a Zacks Rank #2 (Buy).
E-learning/ Work from Home Support: Last year, it was widely assumed that consumers limiting their outdoor exposure was a brief trend. Accordingly, the sudden spur of online education and at home work trends was assumed to be short-lived. However, with the pandemic far from over, this scenario is expected to last for another few quarters on soaring demand for cloud services. In fact, while e-learning can never substitute classroom teaching, many economists believe this virtual delivery of education will not fade even after the virus dies out. We suggest investors snap up Zoom Video Communications, Inc. (ZM Quick Quote ZM - Free Report), Digital Turbine, Inc. (APPS Quick Quote APPS - Free Report), and Thryv Holdings, Inc. (THRY Quick Quote THRY - Free Report), all of which sport a Zacks Rank of 1.
All the above-discussed stocks have stellar growth estimates not only for the second quarter but for the remaining quarters of 2021.
Disclaimer: Neither Zacks Investment Research, Inc. nor its Information Providers can guarantee the accuracy, completeness, timeliness, or correct sequencing of any of the Information on the Web ...
more