Intuitive Surgical: The Growth Leader In Surgical Robotics
Surgical robotics is a remarkably promising market with enormous opportunities for growth, and no company is better positioned to capitalize on such opportunities than Intuitive Surgical (ISRG). The stock is not cheap at all, and increasing competition is a major risk factor to watch. However, the risk and reward trade-off in Intuitive Surgical looks quite attractive over the long term.
An Outstanding Growth Business
Intuitive Surgical designs, manufactures, and sells the da Vinci surgical system and related instruments and accessories. The da Vinci system is a robot-assisted surgical system that enables minimally-invasive surgery to reduce the trauma associated with open surgery. This creates plenty of benefits for both patients and surgeons, improving the healthcare outcome and creating all kinds of efficiencies.
Intuitive surgical has been the market leader in this area over the past two decades, and the company has benefitted from sustained growth in both revenue and cash flow in the long term.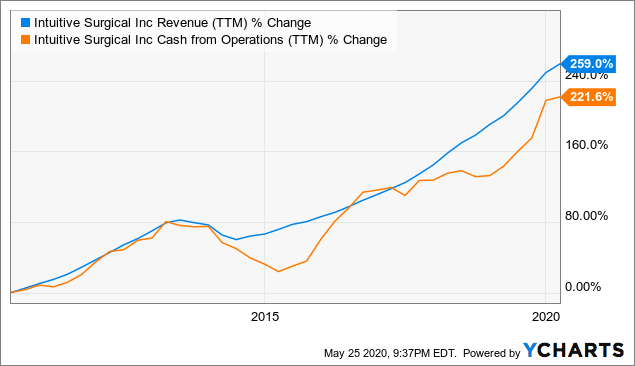 Data by YCharts
The company has been widely successful at gaining acceptance from both patients and healthcare professionals. Management considers that a major driving force behind this consistently strong growth is the introduction of electronic health records into many health systems. It is one thing to publish research showing the benefits of the da Vinci system, and a far more tangible argument to show how the system improves both healthcare and economic outcomes in a specific environment.
The company has been actively working with hospitals to combine its robotic surgery data with their electronic health records in order to enable management to assess and measure clinical outcomes, efficiency metrics, and direct and indirect costs for open surgery, laparoscopic surgery, and da Vinci robotic-assisted surgery in their own settings, with their own patient populations, care teams, and reimbursements.
This has been a major driving force for the business, and over the past three years the number of hospitals that are operating five or more da Vinci systems at a single campus has grown more than 400%.
Disclosure: I/we have no positions in any stocks mentioned, but may initiate a long position in ISRG over the next 72 hours.
Disclaimer: I wrote this article myself, and it expresses my ...
more