Intel Powered By Solid Earnings And An Attractive Valuation
Intel's (INTC) stock has been consolidating in a sideways range for several months, and the area around $58-$60 per share has been a major resistance for the stock since June of 2018. The stock is once again approaching this area, which raises the question of whether a sustained breakout is coming or just another failed attempt.
(Click on image to enlarge)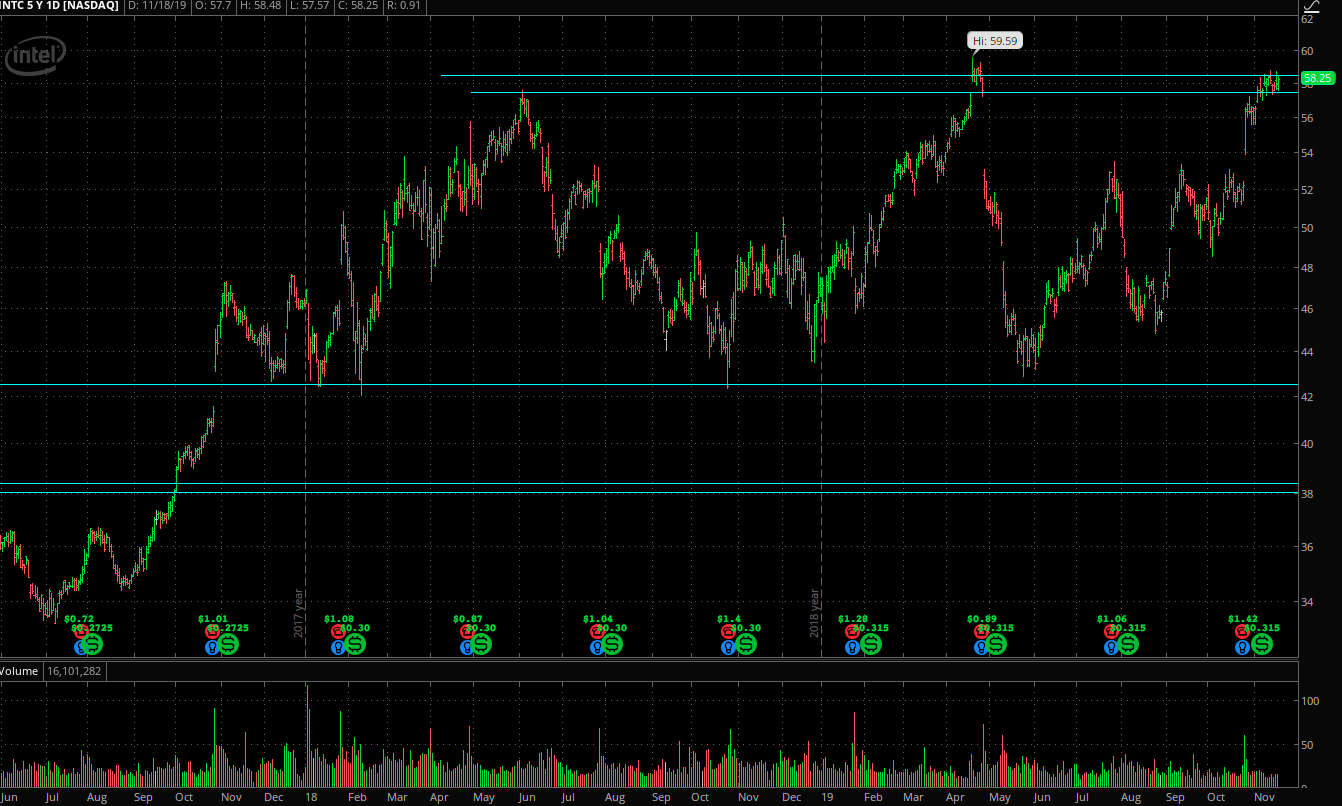 Source: TOS
The final outcome will depend on a multiplicity of variables, many of them related to the market environment and investor sentiment in addition to the company's fundamentals. However, this new breakout attempt is fueled by better than expected earnings from Intel, and the stock is attractively valued at current levels.
Solid Earnings
Intel is going through a transition, the PC industry is languishing, and the company is facing growing competitive pressure across the board. However, the most recent earnings report from Intel surpassed expectations, proving that the company is strong enough to continue delivering in all kinds of environments.
Revenue in the third quarter of 2019 amounted to $19.2 billion, surpassing the company's guidance and beating Wall Street expectations by $1.13 billion. Non-GAAP earnings per share came in at $1.42, surpassing expectations by $0.18 per share. In a sign of confidence, management also raised guidance for the rest of the year.
Cash flow generation is more than healthy. Year-to-date, Intel produced a record $23.3 billion in cash from operations and $11.7 billion in free cash flow. The company returned approximately $14.3 billion to shareholders during the period.
The main growth engine during the quarter was the data center business, with data-centric revenue reaching $6.4 billion, up 4% from the prior year and up 28% sequentially. Over time, the high growth segments should account for a larger share of total revenue at Intel, which should have a positive impact on revenue growth in spite of the stagnant numbers in the PC Centric segment.
(Click on image to enlarge)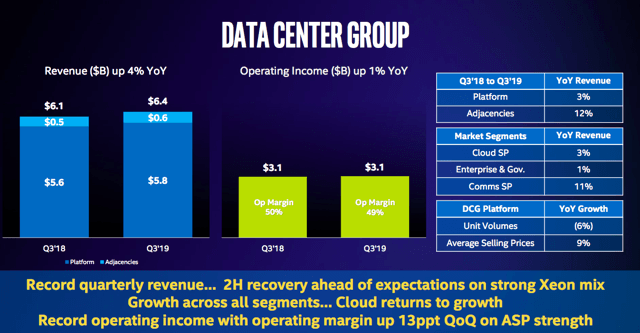 Source: Intel
Intel has been heavily investing in Artificial Intelligence over the past several years, and management is quite optimistic about the company's potential in AI, not only in the future but also in the present.
From the conference call:
Disclosure: I/we have no positions in any stocks mentioned, and no plans to initiate any positions within the next 72 hours.
Disclaimer: I wrote this article myself, and it expresses my own ...
more