Infrastructure Bill Beneficiaries Holding Their Own Amidst Market Woes
First, the background: As illustrated in the chart below, for almost two decades, the U.S. has been underinvesting in infrastructure.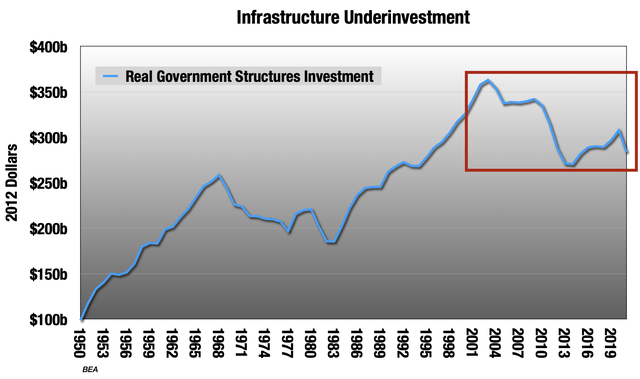 BEA
All that under-allocation is about to change with the passage last November of the Infrastructure Investment and Jobs Act (IIJA) into law which has authorized the spending of $1.2 trillion (see below) with $550 billion of new spending over the next 5 years. In excess of $110 billion of spending across 4,300+ projects has already been awarded, announced, or initiated.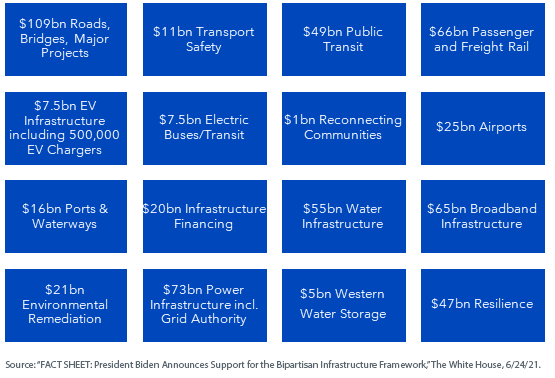 In addition to the passage of the federal infrastructure bill, a number of states are also joining in with their own infrastructure packages totaling in excess of $17.5B to date.
The munKNEE Infrastructure Bill Beneficiaries Index declined 8.1% in September, but, as bad as that was, 7 of the constituents outperformed the S&P 500's decline of -8.6%. The Index has now outperformed the S&P 500 by -21.2% vs. -24.8% YTD.
Below is the performance of the 12 constituents in the Index in September, in descending order, in comparison to that of the S&P 500:
Constituents That Outperformed the S&P 500 In September
Constituents That Underperformed the S&P 500
Federal, state, and local infrastructure agencies will be spending like they haven't in almost two decades, and this is going to go on for years, so now might be the ideal time to do your own due diligence, decide which companies you think have the best prospects going forward, invest in them and capitalize on the opportunities.
---
More By This Author:
Major Plant-Based Food Stocks Continued To Decline In September
The Conservative Cannabis Stocks Index Declined Last Week
Major Psychedelic Stocks Continued To Decline In September
Visit munKNEE.com and register to receive our free Market Intelligence Report newsletter (sample more