Income Investors Should Return To Pipelines In 2019
MLPs have become more attractively priced compared with other income-oriented sectors. One way to see this is to compare the trailing four quarter yield. REITs and utilities have remained within a fairly narrow range, while MLPs rose sharply during the 2014-15 oil collapse. After a partial recovery, weakness over the past year or so has caused MLP yields to drift higher again.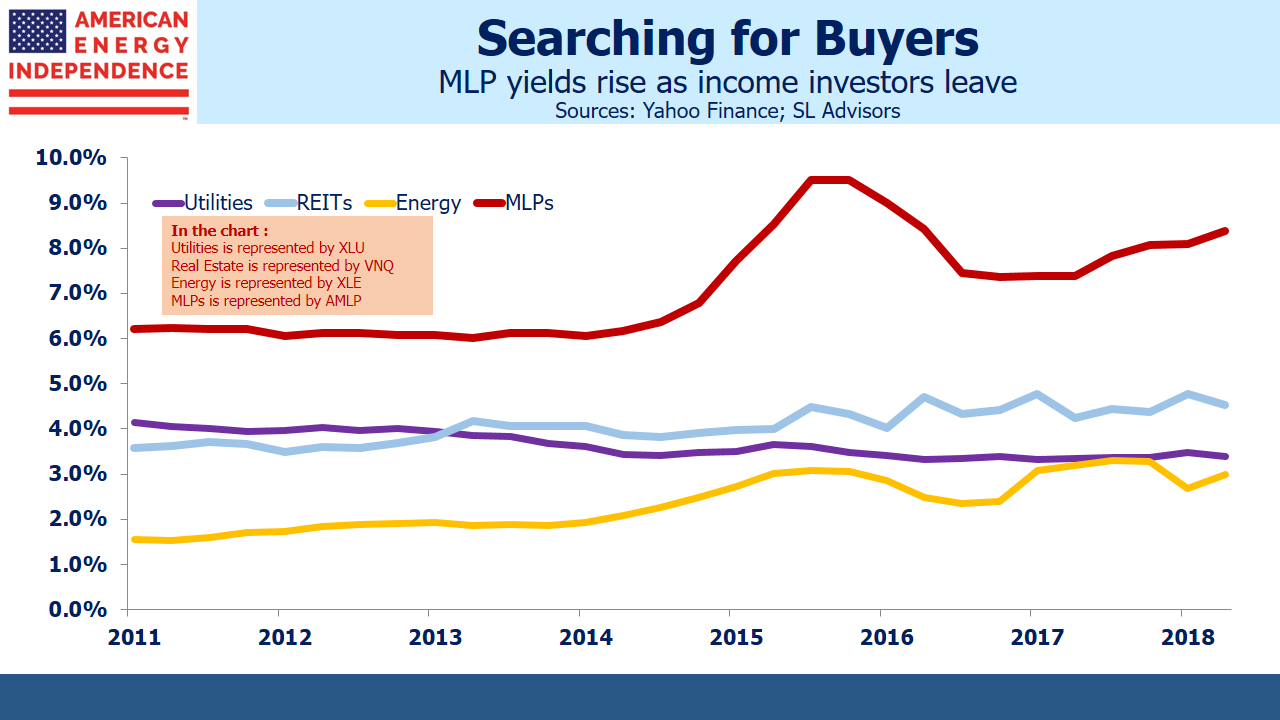 For many years prior to the 2014 sector peak, MLP yields were around 2% above utilities. Currently, they're around 5% wider. This ought to attract crossover buying from income-seeking investors, switching their utility exposure for MLPs, but so far there's limited evidence of this happening. Although the yield advantage over REITs isn't quite as dramatic, the same relative value switch exists there too.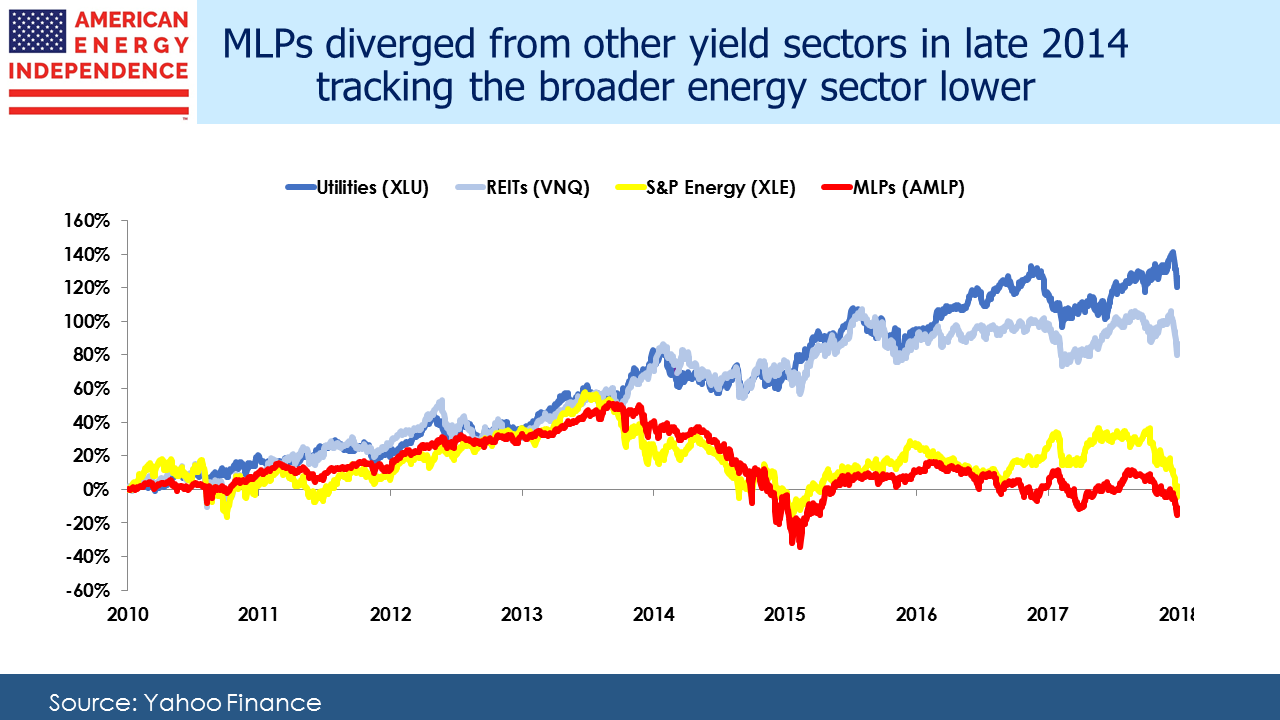 The broad energy sector has remained out of favor. MLPs used to track utilities and REITs fairly closely until 2014 when they followed energy lower. However, even compared with energy, midstream infrastructure remains historically cheap. Research from Credit Suisse shows that on an Enterprise Value/EBITDA basis, pipelines are the cheapest vs the S&P energy sector they've been since 2010.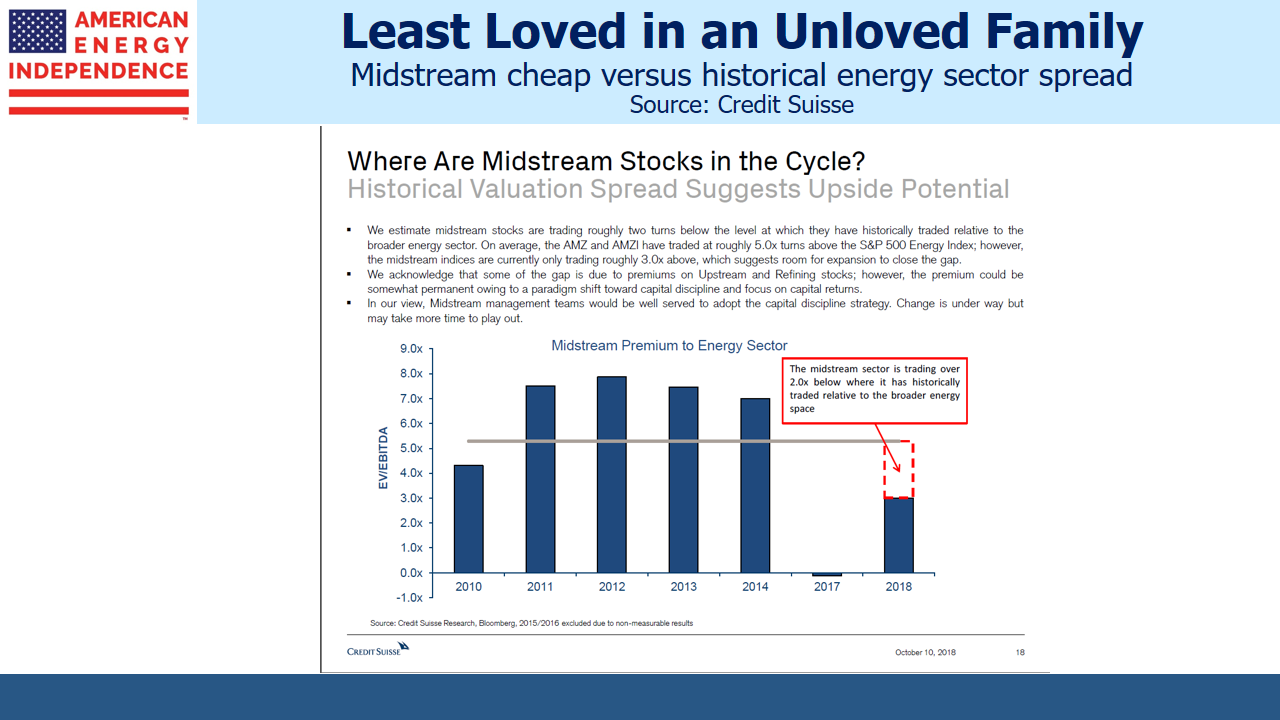 The Shale Revolution has challenged the MLP model in ways that few anticipated. Increasing U.S. output of crude oil, natural gas liquids and natural gas is creating substantial benefits for the U.S. Improved terms of trade, greater geopolitical flexibility and reduced CO2 emissions underpin America's greater willingness to buck the global consensus. However, investors are still waiting for the financial benefits. This is partly because the capital investments required have demanded more cash. E&P companies had to fund investments in new production, which drew criticism that they were over-spending on growth. Similarly, MLPs pursued many opportunities to add infrastructure for transportation, processing and storage in support of new production. All this left less cash to be returned to investors through buybacks and dividends. It remains the biggest impediment to improved returns.
Disclosure: We are invested in WMB.