Imperial Oil Looks Like A Buy
Summary
100% technical buy signals.
83.87% gain in the last year.
Analysts price target consensus is 47.01
Imperial Oil (IMO) has been selected as my Chart of the Day. I was looking for stocks still trading above their moving averages so I used Barchart's Bullish Moving Averages screen as my Watchlist. This screen helps you find today's best stocks with bullish short, medium, and long-term moving average patterns. These large-cap stocks (greater than 300M) have a 20-day moving average greater than the 50-day moving average, and a 50-day moving average greater than the 100-day moving average. When price is above a moving average, it signals an uptrend. In addition, these stocks have a TrendSpotter "Buy" signal, are within 20% of their 52-week high, and have a 20-day average volume greater than 25,000. These additional filters were added to showcase the best bullish moving average stocks.
I sorted the list by the most frequent number of new highs in the last month then used the Flipchart feature to review the charts for consistent price appreciation and Imperial Oil (IMO) looked great to me. Since the Trend Spotter signaled a buy in 12/27 the stock gained 11.94%.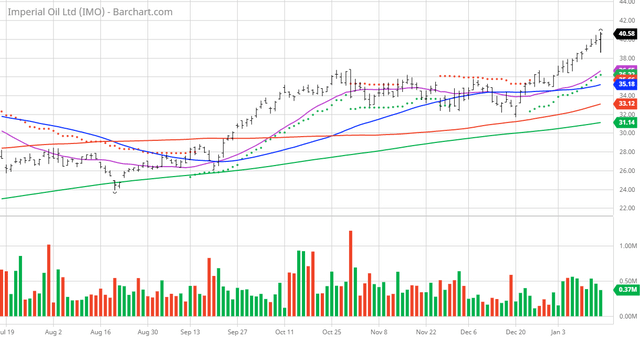 Imperial Oil is Canada's largest integrated petroleum company. Its operations, conducted under the Esso banner. Imperial Oil Limited explores for, produces, and sells crude oil and natural gas in Canada. It operates through three segments: Upstream, Downstream, and Chemical. The Upstream segment explores for and produces crude oil, natural gas, synthetic oil, and bitumen. As of December 31, 2020, this segment had 138 million oil-equivalent barrels of proved undeveloped reserves. The Downstream segment is involved in the transportation and refining of crude oil, as well as blending, distribution, and marketing of refined products. It also transports crude oil to refineries by contracted pipelines, common carrier pipelines, and rail; maintains a distribution system to move petroleum products to market by pipeline, tanker, rail, and road transport; and owns and operates fuel terminals, natural gas liquids, and products pipelines in Alberta, Manitoba, and Ontario. In addition, this segment markets and supplies petroleum products to the motoring public through approximately 2,400 Esso and Mobil-branded sites. Further, it sells petroleum products, including fuel, asphalt, and lubricants for industrial and transportation customers, independent marketers, and resellers, as well as other refiners serving the agriculture, residential heating, and commercial markets through branded fuel and lubricant resellers. The Chemical segment manufactures and markets various petrochemicals and polyethylene, such as benzene, aromatic, and aliphatic solvents; plasticizer intermediates; and polyethylene resins. The company was incorporated in 1880 and is headquartered in Calgary, Canada. Imperial Oil Limited is a subsidiary of Exxon Mobil Corporation.
Barchart Technical Indicators:
100% technical buy signals
100.43+ Weighted Alpha
83.87% gain in the last year
Trend Spotter buy signal
Above its 20, 50, and 100 day moving averages
17 new highs and up 22.64% in the last month
Relative Strength Index 75.46%
Technical support level at 39.19
Recently traded at 39.47 with a 50 day moving average of 35.18
Fundamental Factors:
Market Cap $27.52
P/E 21.32
Dividend yield 2.11%
Revenue expected to grow 4.20% next year
Earnings estimated to increase 35.40% next year and continue to compound at an annual rate of 17.68% for the next 5 years
Canadian oil prices approach 7-yr high - Seeking Alpha
Analysts and Investor sentiment -- I don't buy stocks because everyone else is buying but I do realize that if major firms and investors are dumping a stock it's hard to make money swimming against the tide:
Wall Street analysts issued 2strong buy, 3 buy, 13 hold and 2 under perform opinions on the stock
Wall Street analysts have a price target consensus of 47.01
The individual investors following the stock on Motley Fool voted 354 to 20 for the stock to beat the market with the more experienced investors voting 34 to 7 for the same result
9,290 investors are monitoring the stock on Seeking Alpha
Seeking Alpha gives the stock a Quant rating of 4.70 out of 5
Conclusion: The stock has solid upward price momentum and has consistently been trading above its 200-day moving average for over a year. Commodities analysts are forecasting higher prices for Canadian oil and Wall Street analysts have a price target consensus of 47.01 well above its present price of 39.47.If you hold it keep it and if you wish to buy at this level it still might have some upside potential.
Disclaimer: The Barchart Chart of the Day highlights stocks that are experiencing exceptional current price appreciation. They are not intended to be buy recommendations as these stock are ...
more