IBM Reports First Revenue Growth Since 2018; But Closer Look Reveals Usual Accounting Gimmicks
There was some hope last year that IBM was finally turning things around: after all, after 5 consecutive quarters of declining revenues, the company had just managed to grow its top-line for the first time since Q2 2018 - when revenue grew by a paltry 0.1% - and only for the 4th time in the past 8 years. Alas, those hopes were dashed for much of the pandemic plauged 2020 when the company reported three consecutive quarters of declining revenue.
However, in a glimmer of hope for Big Blue, moments ago IBM reported that in Q1 it generated revenue of $17.7320BN, which smashed expectations of a $17.32BN (which would have been the lowest quarterly revenue for the 21st century) and came above the highest analyst estimate for the quarter of $17.54BN.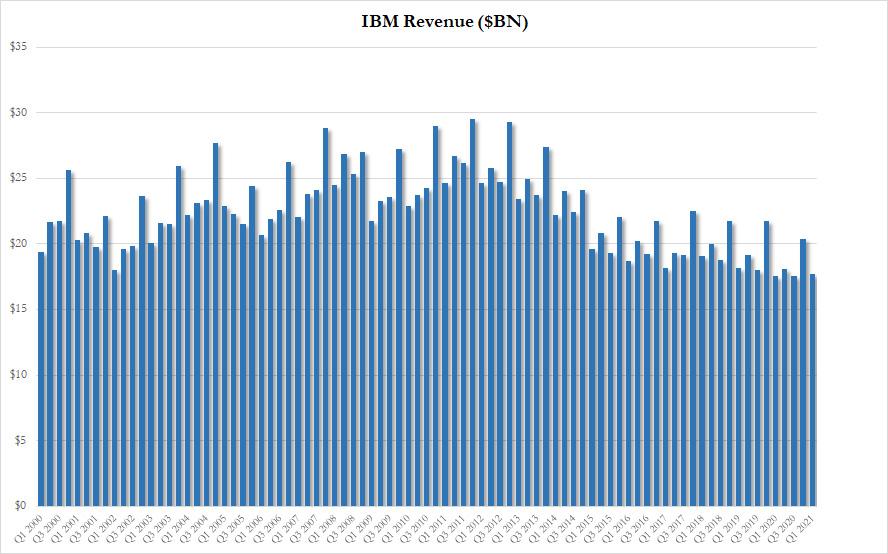 More importantly, while modest, the Q1 revenue was actually a 0.9% increase compared to Q1 of last year, which made it the first revenue increase in 11 quarters, since 2018.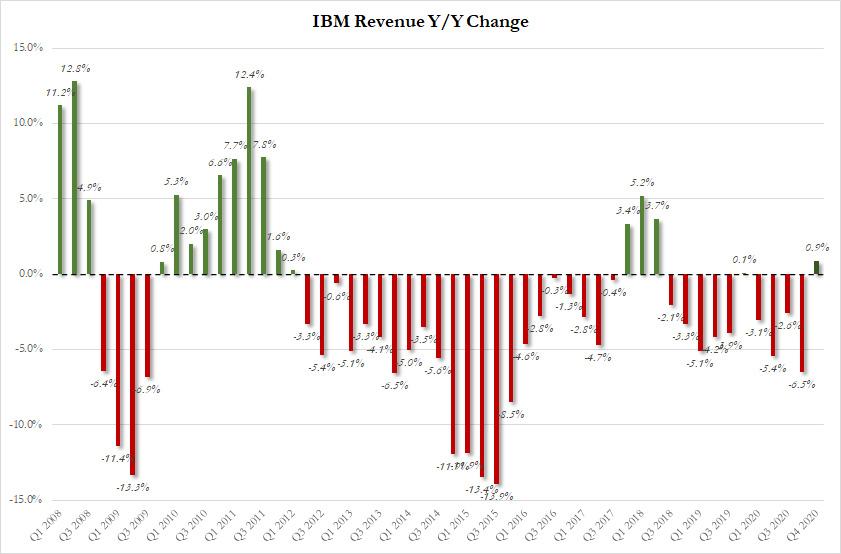 The top-line strength came on the back of solid performance by virtually all groups (only Global Financing revenue missed expectations), with total Cloud revenue of $6.5BN up 21%. IBM also reported Q1 revenue growth in three of its five business segments, including Cloud and Cognitive Software, the company's biggest unit, which saw 3.8% growth in sales from a year earlier. The Global Business Services and Systems units, which includes hardware and operating systems software, also posted year-over-year sales increases of 2.4% and 4.3%, respectively.
Cloud and cognitive software revenue $5.44 billion, beating estimates of $5.39 billion
Global business services revenue $4.23 billion, beating estimates of $4.08 billion
Global technology services revenue $6.37 billion, beating estimates of $6.23 billion
Systems revenue $1.43 billion, beating estimates of $1.25 billion
Global Financing revenue $240 million, missing the estimate $297.8 million
IBM also said revenue from Red Hat, which it bought in 2019 for $34 billion, gained 17% in the first quarter.
Disclaimer: Copyright ©2009-2021 ZeroHedge.com/ABC Media, LTD; All Rights Reserved. Zero Hedge is intended for Mature Audiences. Familiarize yourself with our legal and use policies every time ...
more