How To Play Bitcoin And Bitcoin Stocks Right Now
What a week…
Investors welcomed the world's leading cryptocurrency exchange, Coinbase Global Inc. (COIN), to the market on a high note last Wednesday; its market debut valued the company at nearly $86 billion. From the opening bell, buyers started jumping into the shares, driving the price to well over $400 a share and giving the same company a value of over $100 billion.
To put that into perspective, Goldman Sachs Group Inc. (GS), one of the largest investment banks in the world, has a market cap of around $117 billion.
With that much cash behind it, Coinbase is so much more than a disruptor; out of the gate, it's an instant institution that's moved the timeline forward on the cryptocurrency market.
That's a given – what isn't so clear, at least from the folks I'm hearing from, are the investing implications for Bitcoin and the biggest Bitcoin stocks.
Because, at the moment, the short-term trend is… down.
I'll show you why that's happening, because I've got some charts that'll make clear just how big of a buying opportunity this is…
Bitcoin Is Taking Its Place Alongside Semiconductors and Crude Oil
I didn't start out as a "Bitcoin guy," but looking at the charts has me convinced crypto has massive profit potential; Coinbase and Bitcoin have changed the big picture (BITCOMP).
So why the heck are they all down from last week?
Not to worry. We've seen this before.
This is a classic sell-the-news event. These situations are often created when the expectations and buzz are flying high before events – just like Coinbase's rock-star listing.
The correlation between Bitcoin, Coinbase, and the big crypto miners is, for a virtual certainty, here to stay; Bitcoin is simply the "resource" that they produce. As market prices for that resource move higher, so does their revenue and value.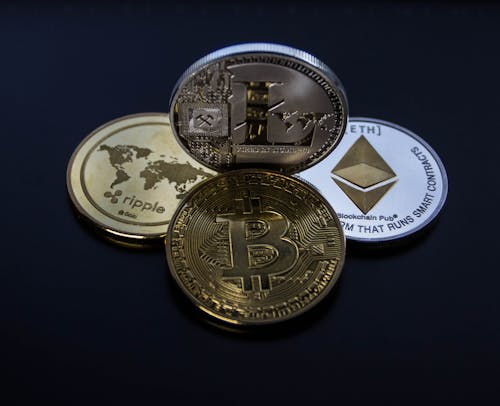 TODAY'S BEST CRYPTO BUYS
Three tiny digital coins are gearing up for a rally. One trading for around $12 could deliver a 638% profit by the end of 2021.
Disclaimer: Any performance results described herein are not based on actual trading of securities but are instead based on a hypothetical trading account which entered and exited the suggested ...
more