How Are The Financial Markets Affected By The Holiday Season?
Santa Claus has arrived in town, and he brings festive cheer with him to everyone. If you've ever wondered how the holiday season impacts upon trading activity on the world's financial markets, you're in luck. First of all, holidays imply time off, and that simply means that there is less trading activity on the world's financial bourses. Whether you're trading the Dow Jones Industrial Average, the Nasdaq 100, the S&P 500 or any of the European stock markets – the holidays will lessen the amount of time available for trading, and therefore, reduce the overall level of trading activity.
How about the Pre-Holiday Season Effect on Equities?
In the United States, equities markets are closed over the following 9 holidays, including the following: Presidents Day, Good Friday, Memorial Day, Independence Day, Labor Day, Election Day, Thanksgiving Day, Christmas and New Year's Day. But this doesn't tell the full picture because there is interesting trading activity taking place in the markets with respect to these holidays. Stocks tend to behave in a certain way in the 2 days before each of these holidays, and by being cognizant of this reality, you can certainly profit off short-term trades and long-term investments.
Of course, it requires a little insight and understanding to generate the types of returns you're looking for. The typical strategy that one should adopt is to buy shares 1 or 2 days before a holiday. What happens next is that short-term equities traders would sell those shares immediately after the holiday. If you were a long-term investor, you would wait until the end of the year to sell the shares. Believe it or not, both of these strategies have proven to be highly profitable over the past five decades. What actually happens here is that traders will sell part of their asset holdings (equities) prior to the 3-day holiday so that they will avoid any of the negative effects that may result. As you sell equities, the price of those equities moves sharply lower, and in so doing presents for profitable buying opportunities.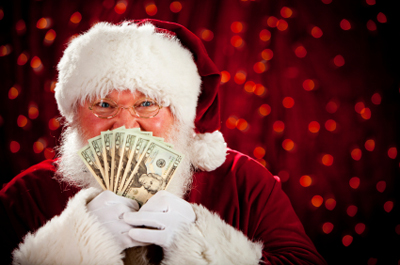 Trading in the Pre-Holiday Period Generates Fantastic Returns
As a case in point, if you had invested in the S&P 500 index in January 1928 for a sum of $10,000, by December of 1975 you would have made $51,441. However, had you decided to invest 11% of your available funds prior to each of these pre-holiday time periods and then sold at the end of the year, you would have ended up with an incredible amount of $1,440,716. Santa Claus has been dishing out the hottest financial advice to traders and investors after arriving in New York City on 16 December. He's on a whirlwind tour bearing gifts galore and something more – financial advice for traders and investors. His slice of advice about pre-holiday trading on equities markets is little known by the majority of casual traders. However, there is no doubt that the trends point to a reality that is too hard to resist.
But How Do Holidays and Seasons Really Affect Stocks?
It should be remembered that stock markets are subject to all sorts of trends. This is especially true of seasonal trends which may occur at the same time every year, every week or every month. As the number of traders increases, so trading activity increases, and as the number of traders decreases, so trading activity decreases. It is a well-known fact that at the end of the tax year, the number of traders in the markets swells dramatically. This is also a good explanation of why markets are subject to volatility. Traders are also savvy in the sense that they know when to expect greater movement in markets; rises and falls tend to follow trends, and the self-fulfilling prophecy is evident in the historical charts that are readily available.
Be advised however that trading stocks according to holidays and seasonal trends should never become the overarching trading strategy that you adopt; it should be used as part and parcel of your trading approach. If you're wondering when the most trading activity takes place on the stock markets, think January! This is when loads of new capital is available for investment purposes and everyone is full of fresh new hope. This is when the price of shares is likely to surge. Share prices typically rise sharply in January – notably small cap companies. Of course, one should be cautious when it comes to January trading since there is a high degree of volatility. Share prices often fluctuate between highs and lows, and are characterized by sharp or sudden price movements. There is an expression that is well-known to traders and investors: As goes January, so goes the rest of the year!
Santa Claus Recommends Investing a Little for a Lot of Long-Term Gains!
During the month of May, there is lots of bearish sentiment on markets as traders tend to take their summer vacations. Naturally, with less trading activity comes lower prices and lower volatility. Investors have many expressions, including the following: Sell in May and go away and come back on St Leger day. During long weekends and the major national holidays, you will find equities prices tend to rally ahead of the holiday weekends, and especially during 3-day holidays. The reason for all of this trading activity is simply optimism about the upcoming holiday season. To cap it off, you should remember that January is the best month for stock markets since share prices tend to appreciate sharply. We are almost there, and Santa Claus suggests that you save a little for investment purposes because a New Year is better with extra cash in hand!
Merry Christmas and Happy Holidays to One and All!
The material appearing on this article is based on data and information from sources I believe to be accurate and reliable. However, the material is not guaranteed as to accuracy nor does it ...
more