Here's What Analysts Are Expecting From Tesla Earnings
Tesla earnings are slated to be released after the bell today, with investors likely paying close attention not only to the "usual" metrics - like what kind of "profit" the company can turn in the absence of EV credits - but also to the ongoing tension in China, where both media and the government appear to be less than amused with Elon Musk.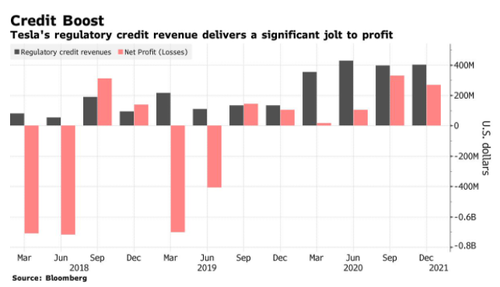 While Tesla is all of a sudden grappling with a regulatory investigation in the U.S. as a result of a recent fatal wreck in Houston, and calls for a regulatory intervention in China, the company began April with decent delivery number momentum, as we reported back in early April. Tesla reported 184,800 vehicles delivered for Q1 2021, coming in head of the average analyst estimate of 168,000 vehicles.
Analyst estimates for deliveries ranged from 145,000 to 188,000 for the quarter, CNBC noted. The most pronounced change in the data heading into 2021 was the lack of deliveries of Model S and Model X models, which as you can see in the chart below, only accounted for 2,020 of the company's Q1 deliveries. Tesla has since announced it would be delaying its Model S and Model X production refreshes, as we commented earlier this month.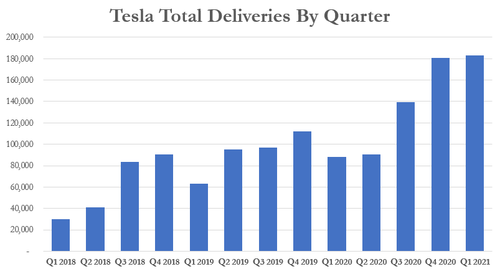 The remaining 182,780 vehicles that Tesla delivered were either Model 3 or Model Ys. The company said its production was negatively affected by a fire at its Fremont plant, temporary closures due to parts shortages and the broader semiconductor shortage that the entire industry is dealing with.
Last year, Tesla delivered 88,400 vehicles in the same quarter.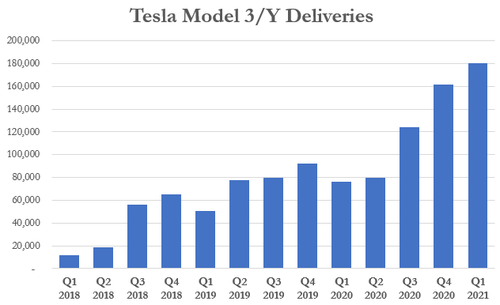 And Tesla CFO Zach Kirkhorn did address the low contribution percentage of the company's Model S and X for the quarter in Tesla's most recent earnings call. He also said that Q1 numbers would have the benefit of Tesla's Shanghai plant spooling up: "Specifically for Q1, our volumes will have the benefit of early Model Y ramp in Shanghai. However, S and X production will be low due to the transition to the newly re-architected products."
Disclaimer: Copyright ©2009-2021 ZeroHedge.com/ABC Media, LTD; All Rights Reserved. Zero Hedge is intended for Mature Audiences. Familiarize yourself with our legal and use policies every time ...
more