Google Has A Way To Grow Again
Google (GOOG, GOOGL) has been treading water largely the past year as growth has seen some bumps while investors have questioned where the leviathan company may still have room to expand to. However, while Google is late to the diversification game, it is not out.
In fact, the company is posting healthy signs of potential expansion into a wide variety of non-search products that could be the key to sustaining and bolstering its growth for the near- and medium-term future.

Despite Google's "Cloudy" Financials, We Can Still See The Gems
Ever since the beginning of 2018, Google's market price has been in a zig-zag motion, as its price has bounced up and down and leaving it with essentially flat net growth. This has come amid a wide variety of reasons, ranging from broader technology market headwinds due to trade conflicts to government antitrust action and regulatory enforcement concerning data privacy.
While the company was frequently spoken of as a potential $1 trillion company as far back as early 2018, so far it has hovered close to that bar for now almost two years. The company's price remains slightly down year-on-year.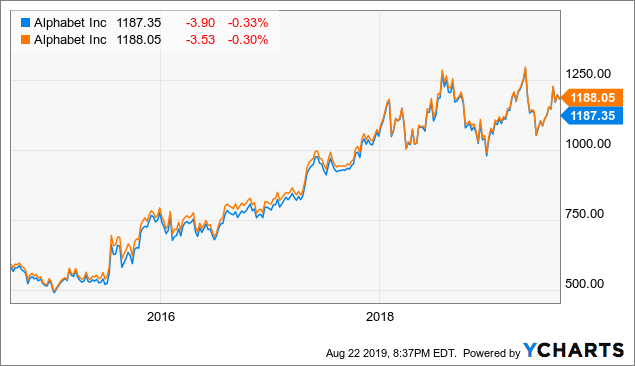 Data by YCharts
It has also been due to Google's own seemingly shaky financials and growth amid its non-transparent financials in which there is essentially no breakdown among the countless Google segments, products, services, companies, and activities that comprise the company's operations and continuing advancement.
This lack of transparency has real-world price impact, as Google's stock price fell as low as -8.8% immediately in the wake of Q1 2019 earnings due to revenue growth slowing below 20% and there lacking any explanation why.
Even if Google's shroud over its financials and operations remains intact, we can still likely extrapolate some measure of expectation for future more accurate and useful than just reading the tea leaves.

Disclaimer: These are only my opinions and do not constitute investment advice.