Goldman's Clients Are Asking What Happens If Trump Loses And Dems Take The Senate
Over the past week, a significant change has taken place in the US political world and we are not talking about the unprecedented nationwide protests, riots and looting that have prompted comparisons to 1968, or the economic collapse resulting from the covid shutdowns. We are referring to the fact that after dominating the PredictIt online betting poll for who will win in 2020, for the first time ever, Donald Trump has relinquished first place with a material margin to his challenger, Joe Biden, who last night officially clinched the democratic nomination.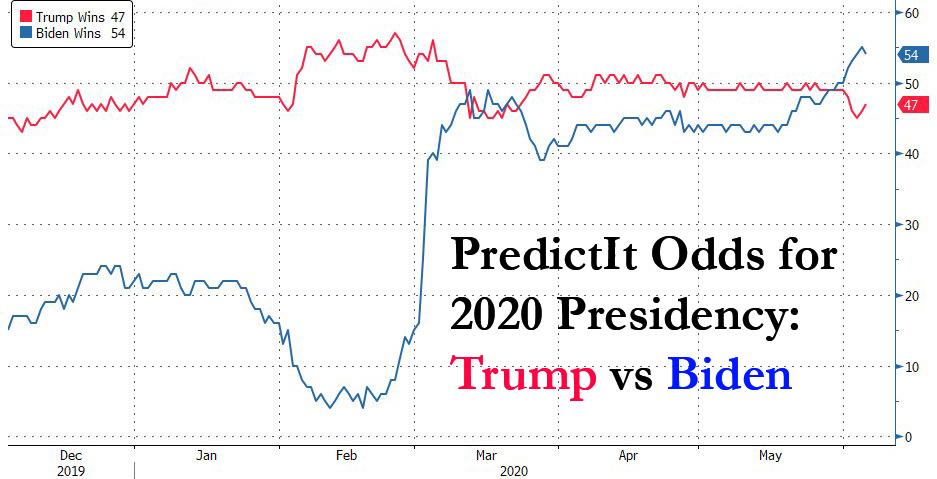 To be sure, this dramatic reversal has not been lost on either the president - who has unleashed an all out push to demonstrate that the US economy is recovering after Friday's surprisingly strong, some would say manufactured, jobs report to halt the downside momentum. It has also not been lost on Wall Street, because as Goldman's chief equity strategist David Kostin writes, with markets looking ahead to the post-pandemic recovery, investor conversations have increasingly focused on the political landscape where, as noted above, prediction markets now show roughly 50% likelihoods of Democrats winning the presidency and the Senate in November. This is notable because as Kostin explains, for many Goldman clients, the most important equity market implication is the potential for higher corporate tax rates.
Follows is an interesting admission from the Goldman strategist who writes that although the coronavirus has caused the sharpest decline in economic activity on record - this is largely affecting the poor and middle classes - while it is tax policy that represents a larger risk to earnings and consequently to equity prices, and by extension Goldman's predominantly wealthy clients. Furthermore, with the help of record policy support and inflecting data, investors have largely looked through the coronavirus as a temporary hit to total corporate earnings according to Kostin, although as we have shown before even the most optimistic forecasts don't show corporate earnings returning to pre-covid levels until the end of 2022 at the earliest, so it depends on one's definition of "temporary".
[The original article was written by Dan Popescu (GoldBroker.com) and is presented here by the editorial team of more