Goldman: Slowdown In Consumer Spending "Moved From Theory To Reality" In The Last 2 Weeks
As Goldman consumer discretionary trader Scott Feiler writes over the weekend, all year, a consumer spending slowdown has been a theory (if one which became far louder in the last week of March when we showed a sharp drop in the post-bank crisis consumer spending). Feiler lists that among the rising headwinds on the horizon listed have been
i) reduced SNAP benefits (end of February),

ii) lower tax refunds by double-digits y/y (mainly a March impact),

iii) revolving credit up to all-time highs, and

iv) unseasonably cool weather in March impacting home, outdoor and apparel.
Additional recent concerns have been the jobs angle (finally slowing) and the end of the student debt moratorium in June. Until very recently, these were only listed headwinds, with no notable slowdown to speak of. But, as the Goldman trader warns, "the slowdown moved from theory to reality the last 2 weeks, with the Costco update Thursday night which feels like a big focus, given they were the first major bellwether to call it out", and then others quickly joined:
COST: Provided an update on March sales Thursday night. They said total March comps in the US were +0.9% This was about 200 bps below consensus and their weakest comp in over 6 years. The weakness is being led by discretionary, with their non-food sales down mid to high-singles vs down MSD in February and, down LSD in January and slightly positive in December.

LEVI: Shares were down 16% on Thursday after they spoke to increased promotions needed to clear excess inventories (gross margins missed by 100 bps). They also spoke to a slower wholesale environment in the US. They said they expect the US and Europe wholesale environment to remain constrained as retailer partners cautiously plan open-to-buy budgets. As a result, the company guided to a LSD-MSD decline in FY23 global wholesale revenues vs. flattish prior.

On March 29th, RH guided 1Q sales to be down ~25% y/y, a 1000 bps slowdown vs 4Q.

On March 21st, CTRN guided 1Q sales 1000 bps below consensus.

Throughout the 2H of March, there were multiple spending trackers highlighted from the big banks pointing to much slower growth rates in March.
It wasn't all bad news:
WMT: Sounded very constructive at their analyst day this week, as they reaffirmed 1Q and FY, while heavily leaned into the idea that operating income could grow above their outlook on the go-forward. One specific data point tossed around a lot this week (between COST slowdown vs WMT strength) was that WMT has just ~6% exposure to California vs COST at ~16%.

Weather flip? Many hedge fund investors are taking the other side of the cautious retail trade as we move into April, whereas LO's and concentrated HF's have not. The argument from many is that weather played a significant impact on the March slowdown. Our personal view on the desk is that while this may be a temporary trade, longer-term investors became more focused on the softening jobs picture this week, so will not underwrite a temporary bump from weather trade.
According to Goldman, the next catalyst to keep an eye on - at least until Friday's retail sales update - KMX is the only major consumer company to report this week and Goldman thinks expectations are for them to miss comp sales by about 500 bps and speak to a slow start to 1Q.

Finally, Feiler asks rhetorically "what are we seeing, who will be impacted" and answers "We have seen a very defensive playbook in consumer, with names like dollar-stores (DG/DLTR) and discounters/staples (WMT, PG) outperforming, vs a reduction in discretionary plays."
The silver lining in all this is that as the Goldman Prime Brokerage chart below shows, positioning already largely reflects the consumer slowdown, with Discretionary positioning bumping along lows, vs Staples significantly net bought recently.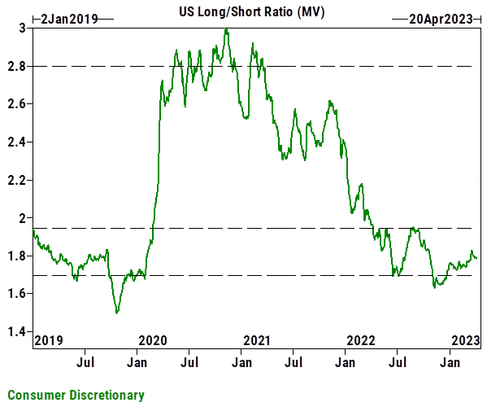 ---
More By This Author:
Fed Survey Shows Inflation Expectations Re-Accelerated In March, Credit Access Worst Ever
Ports Of Los Angeles And Long Beach Close Due To Widespread Worker Shortages During Contract Talks
"Not Lovin' It": McDonald's Slashes Pay, Closes Offices, Lays Off Workers
Disclosure: Copyright ©2009-2023 ZeroHedge.com/ABC Media, LTD; All Rights Reserved. Zero Hedge is intended for Mature Audiences. Familiarize yourself with our legal and use policies ...
more