E

GNC:  Strategic Fit For Amazon Or Wal-Mart
Thesis: GNC (NYSE:GNC)
Analysis of current situation as an investment and as a trade. Buyout interest provides an interesting risk/reward for more speculative accounts. Why it makes strategic sense for Amazon (Nasdaq:AMZN) or Wal-Mart (WMT).
Overview:
GNC Holdings is a leading global specialty retailer of health and wellness products, including vitamins, minerals, and herbal supplement products, sports nutrition products and diet products. It has a multi-channel business model through company-owned retail stores, domestic and international franchise activities, and third party contract manufacturing.
The company now has 5M loyalty members of its My GNC Rewards Program.
Now that we see Amazon and Wal-Mart getting more aggressive in terms of external M&A, it makes more sense as a strategic asset to both companies.
Why M&A Strategy (And Your Retail Experience) Just Changed Forever -- Amazon Swallows Whole Foods
Good Fit: Amazon (AMZN) - General nutrition centers offers Amazon a good strategic fit for its current initiatives.
Access to growing sector: health and wellness.
Natural fit with Amazon's branded products, Amazon Basics.
Fits well into a subscription model (Amazon's Subscribe and Save option for Prime Members).
Stores an added benefit as Amazon is moving into physical stores in Amazon pop-up stores and grocery stores.
Valuable Brand: 5M loyalty members of My GNC Rewards.
As will be discussed later, there are already a few potential buyers.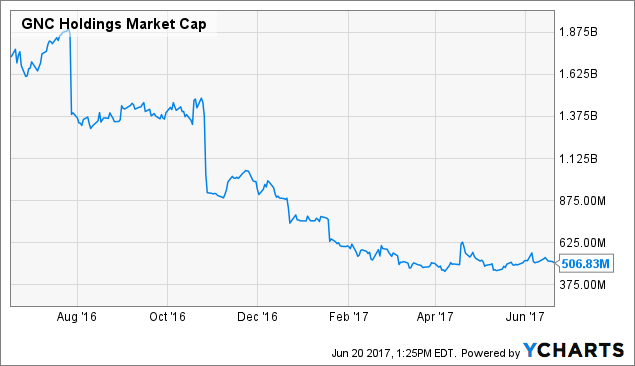 GNC Market Cap data by YCharts
Valuation:
Debt:
The debt is a major issue for the company. It presents a risk to the shareholders since the business has been slowing for some time. Slowing same-store sales and earnings amplify the risk for shareholders.
Industry Issues:
In addition to an extremely weak retail sector, the health and wellness space is incredibly competitive now. Competition (VSI) from drugstores (Nasdaq:WBA) and warehouse retailers like Wal-Mart (NYSE:WMT) and Costco (Nasdaq:COST) have hurt the industry.
Disclaimer: Options involve risk. Ideas are for Educational purposes only.
Disclosure: I/we have no positions in any stocks mentioned, and no plans to initiate any positions within the next ...
more