GME Shares Plunge As Company Moves To Sell 3.5M New Shares
More than 2 months have passed since Robinhood shut off trading in Gamestop while the firm's shares soared past the $400 mark, marking a historic confrontation between an army of GME-hodling "apes" and hedge funds like Melvin Capital, not to mention the mighty hedge fund-market maker Citadel, that would cement GME's status as a favorite of the "Wall Street Bets" retail-trading army.
But for the first time since the intense retail interest made GME one of the most closely watched tickers on Wall Street, GameStop announced Monday morning that it would issue up to 3.5M new shares in an at-the-money offering. The proceeds will help GME accelerate its pivot to digital, the company said in a prospectus filed with the SEC.
The news isn't exactly a surprise: some feared GME might announce a share offering during its earnings report last month, a report that, let's remember, triggered a selloff in GME shares as the company offered few details about its Ryan Cohen-led turnaround strategy, disappointing investors.
Everyone: GME should be doing a stock offering!!!
Also everyone: GME is doing a stock offering!!! Dump eeet!!!

— zerohedge (@zerohedge) April 5, 2021
Even though GME bulls have been practically begging the company to offer more shares (an indication that it's serious about its much-hyped "pivot"), GME slumped 10% premarket as investors priced in the expected dilution. What's odd is that shares are down almost 14%, even as the new shares represent a dilution of just 5%.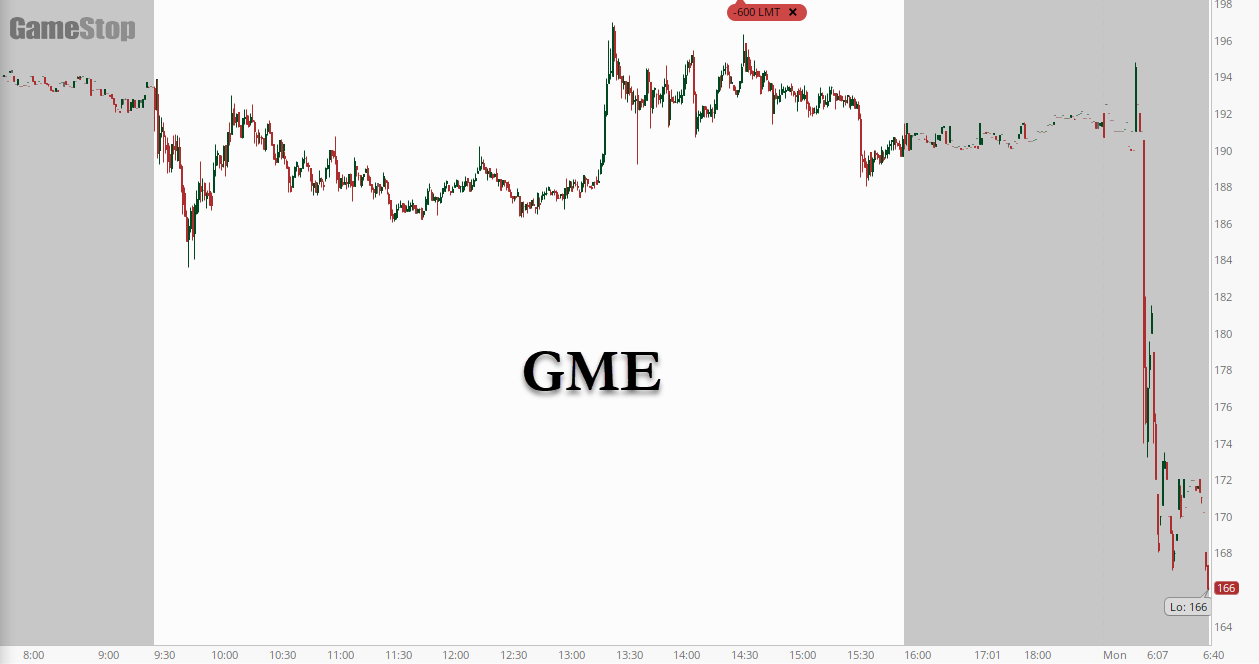 The downward pressure on the stock probably wasn't helped by the following paragraph from the offering's prospectus, where GME warned that the significant volatility seen in its shares since the start of the year means investors who purchase shares of GME common stock "may lose a significant portion of their investments..."
"Our common stock is listed on the New York Stock Exchange, or the NYSE, under the symbol "GME." On April 1, 2021, the last reported sale price of our common stock on the NYSE was $191.45 per share. Our common stock has recently experienced extreme volatility in price and trading volume. From January 11, 2021 to April 1, 2021, the closing price of our common stock on the NYSE ranged from as low as $19.94 to as high as $347.51 and daily trading volume ranged from approximately 7,060,000 to 197,200,000 shares. During this time, we have not experienced any material changes in our financial condition or results of operations that would explain such price volatility or trading volume. Investors that purchase shares of our common stock in this offering may lose a significant portion of their investments if the price of our common stock subsequently declines."
Disclaimer: Copyright ©2009-2021 ZeroHedge.com/ABC Media, LTD; All Rights Reserved. Zero Hedge is intended for Mature Audiences. Familiarize yourself with our legal and use policies every time ...
more