Frack Sands Rebound Predicted Under Trump Administration
Fracking is poised to increase under the Trump administration, and with it will come the need for larger quantities of fracking sand.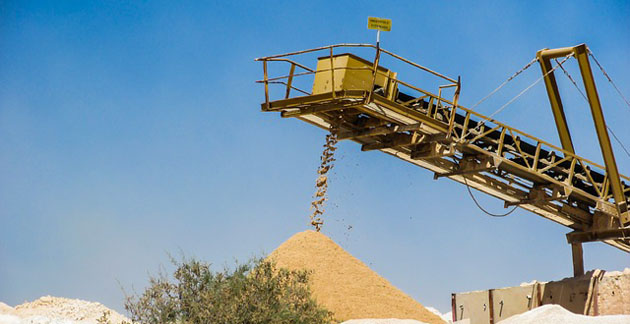 President-elect Donald Trump is widely expected implement pro-energy exploration policies. His "America First Energy Plan" calls for making "American energy dominance a strategic economic and foreign policy goal of the United States," and the unleashing of "America's $50 trillion in untapped shale, oil, and natural gas reserves. . ." Pro-energy policies coupled with rising energy prices point to an increase in fracking. And with the growth of fracking comes the need for fracking sands.
Sand is essential to fracking. Bloomberg reports that sand "is a much greater tool in hydraulic fracking than drillers had understood it to be. Time and again, they've found that the more grit they pour into horizontal wells—seemingly regardless of how extreme the amounts have become—the more oil comes seeping out." Bloomberg cites IHS figures that show that drillers are using twice as much sand per well as they did in 2011: "The per-well increases have analysts and investors betting that the sand industry will boom again as soon as fracking activity starts to pick up even a little bit."
Torchlight Energy Resources Inc. (TRCH:NASDAQ) is one exploration company that is using larger amounts of sand. On Jan. 10, the company announced that on its Flying B Ranch #2 well in the Midland Basin in Texas, it will be performing a "significantly larger multiple-stage frac than previously employed, [utilizing] 600,000 lbs. of sand pumped at a fluid rate of 75-100 barrels per minute." Torchlight CEO John Brda said, "We have engineered a much larger frac for this second well and expect that it will maximize any production results that we encounter."
Investors are swarming to sand fracking companies. One company that has seen a huge rise in valuation is Vancouver-based Select Sands Corp. (SNS:TSX.V). Its shares have risen from CA$0.20 last winter to CA$1.62, before falling back to about CA$1.53. Its operation in Arkansas gives it a geographical advantage to supplying sand to frackers in Texas and Louisiana; most fracking sand comes from Wisconsin and Minnesota. Brien Lundin, in the Dec/Jan issue of Gold Newsletter, noted that Select Sands "has raised the funds it needs to complete its option to buy a dry plant near its flagship Sandtown silica project in Arkansas. . .the large cash infusion gives Select Sands the resources to pursue its development plans at Sandtown. The project has great merit, both as a source of industrial silica and as a potential fracking sand provider, should that market revive."
Disclosure:1) Patrice Fusillo compiled this article for Streetwise Reports LLC and ...
more