Four Bullish Stocks To Buy In April (And How To Trade Them)
CleanSpark Inc. (Nasdaq: CLSK) might not be familiar to a lot of people, but there's a reason I mention it right after green energy. This Utah-based company is a software firm with a focus on energy infrastructure and a major-league Bitcoin miner. Now, I'm still working on my next Bitcoin forecast, but without giving too much away, I'm expecting huge moves up in Bitcoin over the next few months. That puts miners like CleanSpark in a great position.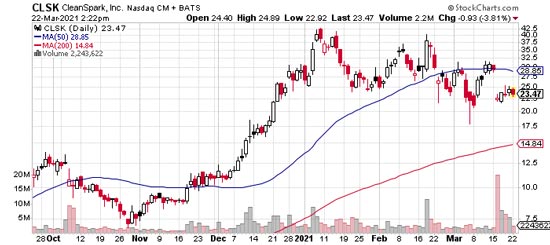 The chart is probably the most interesting and unique one I've got to show you today:
You can see the stock just notched a big, 22% decline last week. Normally, sure, that'd be a red flag, but the decline came because CleanSpark diluted the value of its shares – selling more than 9 million new ones – to raise around $200 million in cash.
It's plowing that money right back into the company, though; it's got a plan to build out its existing capability and, best of all, build and buy more cryptocurrency mining machines.
Any or all of these stocks will make great buys through at least the end of April, but you know me: I'm a big fan of boosting my profits and slashing my risk with options on these. Take JPM shares, for instance; they're trading at $151 right now, so 100 shares would cost around $15,000. But with options, you can control 100 shares of JPMorgan for $350. It's a no-brainer.
JPMorgan stock is extremely liquid, with options expiring every week in April out to April 30. The smaller stocks I've talked about have options expiring on April 16, 2021, and May 21, 2021; you'll have to decide what your risk tolerance is when deciding when to end the trade. Call options one or two strikes out of the money could offer big payoffs there.
Disclaimer: © 2021 MoneyShow.com, LLC. All Rights Reserved.