Forecast 2021: The Stock Market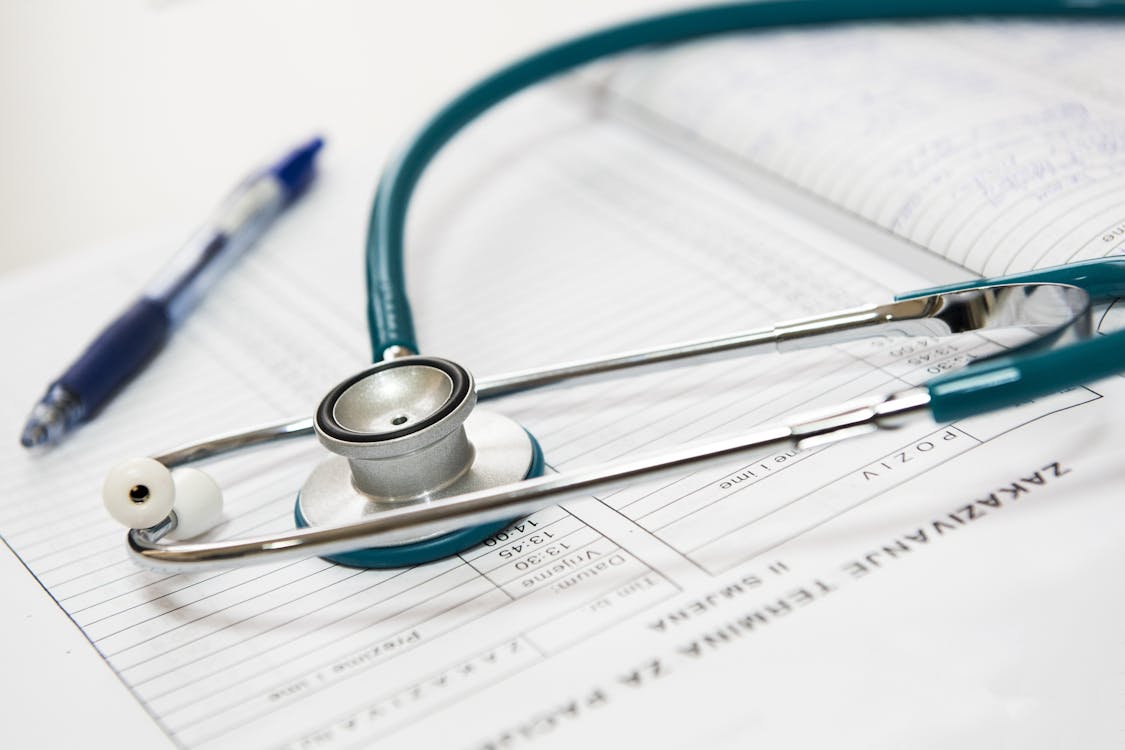 Image Source: Pexels
This will be the third part of my 2021 Forecast Series. You can read the first two parts here and here. The general theme has been "On the Gripping Hand." Science fiction writers imagined a three-handed alien race with a left hand, right hand, and a very strong Gripping Hand. 2021 is the year of the Gripping Hand, and COVID-19 is what's gripping us. Making a forecast without the virus at its center is pointless.
All that being said, today we are going to focus on my stock market expectations. As I promised last week, this is a "Generational Call." For reasons we will go into below, I think we are at a pivot point for stocks, with some clear exceptions I will outline. So maybe like generational call* with an asterisk.
On The Gripping Hand, Part 3
Let's first do a very quick virus update. By the time you read this, the US will likely have administered 20 million vaccinations. Add those who were previously infected, and maybe 40 million people should have some degree of immunity.
The number of new cases is dropping, as you can see in these charts from Justin Stebbing, a professor at Imperial College who sends a detailed daily COVID research summary.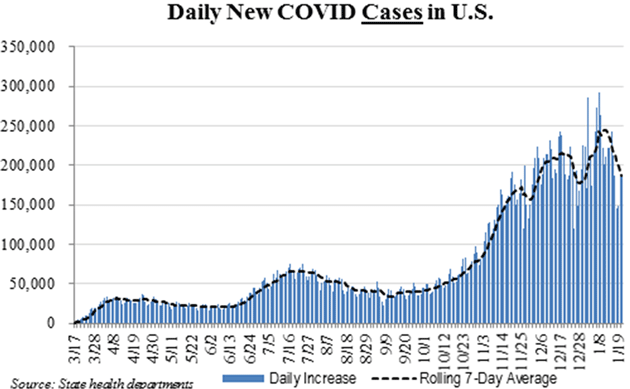 Source: Justin Stebbing
New deaths are thankfully also turning.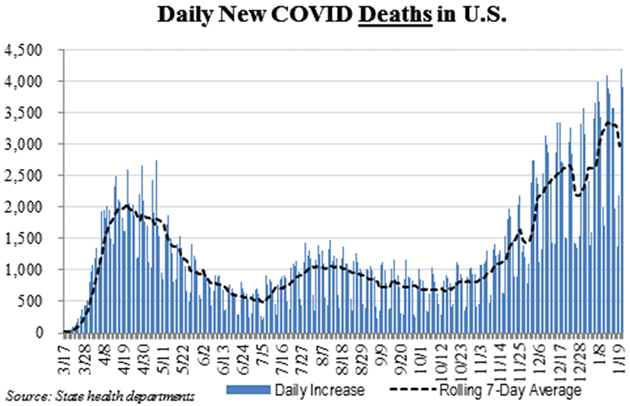 Source: Justin Stebbing
That's the good part, but there's more that is less comforting. The CDC unfortunately confirmed my alarm (described last week) about the UK (B117) variant strain. They expect it will account for 50% of US cases by March. This does not mean that the B117 variant will replace 50% of other cases. It means the significantly more contagious B117 will catch up through an exponential rise in the next few weeks.
How serious is this? It's hard to say. How seriously will we respond, in terms of social distancing, masks, etc., in a country showing virus fatigue? How much faster can we vaccinate, given that we are already having supply problems? As I said then, I see a 40% chance of a significant uptick in cases, deaths, and lockdowns, which is a nontrivial potential.
Nor is this just a US problem. The simple fact is that the world is in a race with the new B117 variant and how fast we can vaccinate the population, plus maintain safety conditions (like social distancing).
If the CDC is right about that 50% B117 prevalence, the US will face a series of lockdowns at least as intense as last spring. Do you think that is priced into the stock market? Will the stock market look past a serious uptick in cases, hospitalizations, and deaths? Along with new lockdowns? More small businesses lost?
I know that the Biden pandemic relief plan has come under severe fire for being too large. Given the sausage-making process of American politics, it is not clear what will come out of Congress. But there is a real possibility we will need more. And of all that is going to merge with the other valuation/market issues we have today. Now let's turn to the market forecast.
"Extrapolated Indefinitely"
We all know the stock market was up significantly last year, and even more so around year-end, but you may not know how historically wild this is.
Citi Research has a "Euphoria/Panic" index that combines a bunch of market mood indicators. Since 1987, the market has typically topped out when this index approached the Euphoria line. The two exceptions were in the turn-of-the-century technology boom, when it spent about three years in the euphoric zone, and right now.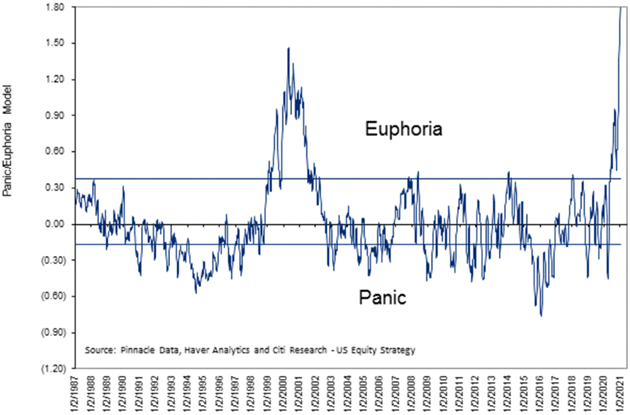 Source: Peter Boockvar
You can look at this in different ways. In terms of duration, the precedent suggests the giddiness could last another year or two. But in magnitude, the current euphoria is well above what we saw 20 years ago, and it developed a lot faster.
The legendary Jeremy Grantham of GMO recently reviewed the dramatic events he observed over a 50+-year career managing money. He describes the current bubble as one of the "four most significant and gripping investment events of my life." The others are Japan in 1989, the 2000 tech bubble, and the 2008 housing and mortgage crisis. We are in historic times.
Grantham went on:
"The single most dependable feature of the late stages of the great bubbles of history has been really crazy investor behavior, especially on the part of individuals. For the first 10 years of this bull market, which is the longest in history, we lacked such wild speculation. But now we have it.

"The strangest feature of this bull market is how unlike every previous great bubble it is in one respect. Previous bubbles have combined accommodative monetary conditions with economic conditions that are perceived at the time, rightly or wrongly, as near perfect, which perfection is extrapolated into the indefinite future. The state of economic excellence of any previous bubble of course did not last long, but if it could have lasted, then the market would justifiably have sold at a huge multiple of book.

"But today's wounded economy is totally different: only partly recovered, possibly facing a double-dip, probably facing a slowdown, and certainly facing a very high degree of uncertainty. Yet the market is much higher today than it was last fall [2019] when the economy looked fine and unemployment was at a historic low. Today the P/E ratio of the market is in the top few percent of the historical range and the economy is in the worst few percent. This is completely without precedent and may even be a better measure of speculative intensity than any SPAC.

"This time, more than in any previous bubble, investors are relying on accommodative monetary conditions and zero real rates extrapolated indefinitely. This has in theory a similar effect to assuming peak economic performance forever: it can be used to justify much lower yields on all assets and therefore correspondingly higher asset prices. But neither perfect economic conditions nor perfect financial conditions can last forever, and there's the rub."