Ford Stock Price Forecast: Jefferies Sees A 32% Upside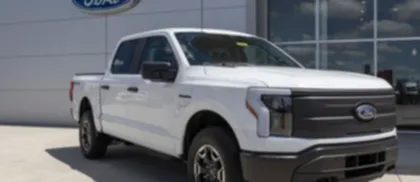 Ford Motor Co (NYSE: F) hasn't been all that exciting for investors since the start of this year but a Jefferies analyst says it'll be a different story moving forward.

Ford stock could climb to $16
On Tuesday, Philippe Houchois upgraded the legacy automaker to "buy" and raised his price objective to $16 – about a 32% upside from its previous close.
His bullish call on Ford stock arrives only days after the company's investor event. The analyst said in his research note today:
Ford has refined a strategy to leverage group strengths and fill the gap between quality of its product franchises and returns that have lagged peers and lacked consistency.
Earlier this month, Ford Motor said it swung to a profit in its first financial quarter.

Ford shares could even double from here
Ford has recently divided operations into three divisions: Ford Blue, Model e and Ford Pro.
If its new strategy is successful, Houchois added, shares of the multinational car maker could actually more than double from here.
Ford has put together a coherent team mixing internal and senior talent from outside the auto industry including CEO Jim Farley's open mind towards new business models and inspiration from Tesla when applicable.
The Michigan-based company is committed to improving its margins to 10% by 2026. In comparison, consensus is for 6.0% only – a gap that makes Ford stock all the more attractive at current valuation, the Jefferies analyst concluded.
---
More By This Author:
Nasdaq Statistics In 2023
Debt Ceiling Deal: Will The U.S. Stocks Rally This Week?
4 Events To Impact Financial Markets This Week And Why Should Traders Care