First Solar And SunPower Lobby Shareholders To Sell 8point3 Yield Co.
Will shareholders accept the deal?
On Monday, 8point3 Energy Partners, the joint YieldCo from First Solar and SunPower, entered into a definitive agreement to be acquired by Capital Dynamics.
When public companies are sold, it's almost always at a premium to the market price. It's that price premium that persuades shareholders to sell. So why would 8point3 (Nasdaq: CAFD) shareholders accept a deal that offers them only $12.35, or 15 to 20 percent below the roughly $15 price CAFD has been trading around for the past three months?
To answer this question, we need a little history.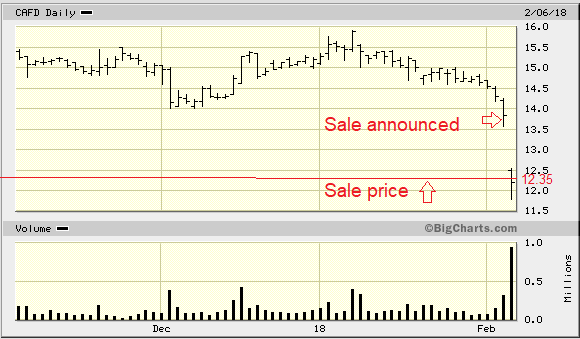 Figure: 8point3 E​nergy Partners three-month stock price, via BigCharts.
Jan Schalkwijk, founder and portfolio manager at investment advisory firm JPS Global Investments, said that First Solar (Nasdaq: FSLR) created 8point3 to unlock capital for its solar project development business.
"First Solar got into the solar project business as a means to pull demand for its panels in an over-supplied market," said Schalkwijk. "As it turns out, First Solar was quite good at it, and many of the largest utility-scale solar plants in operation in the U.S. today are First Solar projects."
"But operating a solar plant is inherently a different business from producing solar panels and locks up a lot of capital," Schalkwijk added. "Also the investment thesis is different and more yield-driven than the higher risk (and higher cost of capital) product side. To free up capital and reduce the cost of capital for projects to pencil out, it formed a YieldCo, 8point3."
He expects that SunPower's reasons were similar.
From the point of view of solar manufacturers like First Solar and SunPower, the reason to own a YieldCo is to have a captive buyer of solar projects. Since that YieldCo could not raise money in the stock market to buy projects at attractive prices, they chose to sell the YieldCo itself.
JPS Global holds First Solar and a small position in SunPower in client accounts. They sold all holdings of 8point3 in 2017. JPS is also the manager of the Green Income Folio strategy. I am the primary research provider and joint developer of this strategy, which includes First Solar on Schalkwijk's recommendation, but no position in CAFD.
An offer they can't refuse
Disclosure: Long TERP, AY, NYLD, NYLD/A, AQN. Short calls on CAFD. Short puts on FSLR (an effective long position). Tom Konrad and Jan Schalkwijk have an affiliation with the Green Income Folio, ...
more