Feeling Good About Your Investments? Here's Why That Could Be A Bad Sign
After a very rocky start to the year, the SPDR S&P 500 ETF Trust SPY is up 65.2% since its March lows and is making new all-time highs. Investors who bought at or near the market bottom back in March are likely feeling like investing geniuses right about now — but that good feeling could actually be a warning sign of danger ahead.
One of the first lessons new investors must learn about how the stock market works is that a large part of the movement in the market is based on psychology. Peaks and troughs in the stock market cycles coincide with peaks and troughs in investor sentiment, or how bullish or bearish investors feel.
The problem with what's known as the "investor sentiment cycle" is that the times at which investors feel the best are often the best times to sell. A stock's price is determined by how much investors believe it is worth. The psychology of investing in the market is the reason so many opportunities are created.
"Be fearful when others are greedy and greedy when others are fearful," Warren Buffett once said. The wisdom of this quote can be understood when looking at the investor sentiment cycle graphic: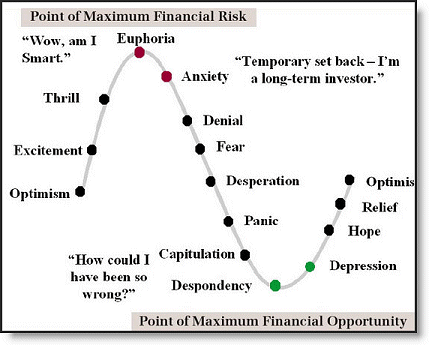 Investor Sentiment Cycle Explained
The idea behind the investor sentiment cycle is that human emotions are backward-looking. A typical shareholder experiences emotional reactions to changes that have already occurred. When a stock falls, traders get angry or scared. When it climbs, traders feel excited and confident. The problem is that these emotions often lead traders astray because they have no predictive value.
The emotions attached to a particular investment are often associated with the point in the investor sentiment cycle that the stock was purchased. Investors who bought stocks back in March are likely now feeling very positive about that decision. Unfortunately, that "wow, I am good" feeling is exactly how investors feel near the peak of a stock's cycle.
© 2020 Benzinga.com. Benzinga does not provide investment advice. All rights reserved.