Etsy: Underappreciated Growth Story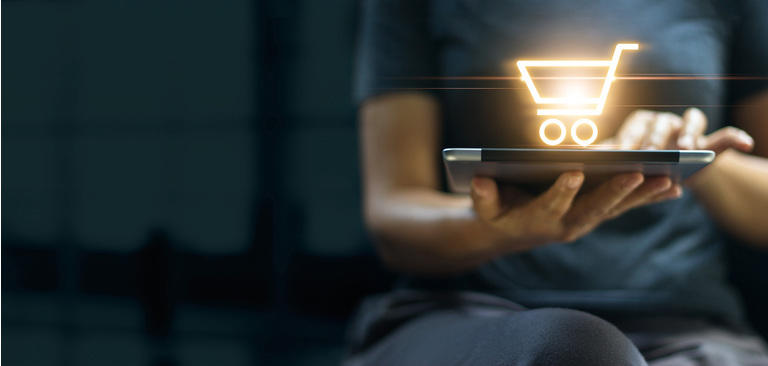 ipopba/iStock via Getty Images
Value versus growth investing has been a major topic of discussion in 2021. Money has rotated rapidly across different styles throughout the year, and investors are always trying to find out which style - value or growth - is going to deliver superior returns in the months ahead. However, from a broader perspective, the basic distinction between value and growth stocks is too simplistic and short-sighted.
Sustained growth can be a huge driver of fundamental value for a business, so a company with rapid revenue growth and attractive profit margins can be deeply undervalued even if valuation ratios look high in comparison to current sales and earnings. When you look at the valuation ratios, you have to assess those ratios in a broad context that includes other variables such as competitive strengths, the quality of the management team, long-term growth opportunities, and profitability.
In the particular case of Etsy (ETSY), you don't even need to do much of an effort to justify current valuation ratios. The stock is trading at valuations levels that have remained stable in the past year, like if COVID-19 had never happened.
Revenue is expected to grow 32% in 2021, and the stock is trading at an inexpensive EV/Revenue ratio of 9.3 on a forward basis. Looking at both cash flows and EBITDA, it is hard to argue that Etsy is not fairly priced, especially in comparison to other growth stocks in the market.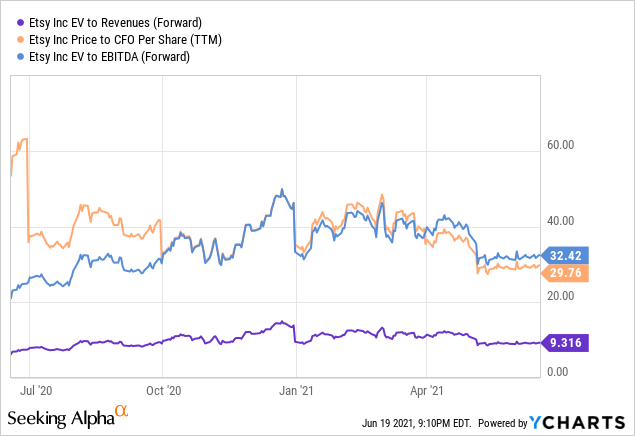 Data by YCharts
Looking at these valuation levels, it seems to me like the market is underestimating Etsy and its long-term potential.
One of the main success drivers for Etsy has been mask sales in recent quarters. As the market is now looking at a future without masks, investors are staying away from companies previously seen as beneficiaries of the pandemic.
Besides, Etsy is a business with $2.3 billion in sales competing against a giant such as Amazon (AMZN), which makes $490 billion in annual revenue. Having bigger competitors with deep pockets is always an important risk factor to consider.
Nevertheless, there are strong reasons to believe that Etsy is well-positioned to deliver attractive returns in the years ahead. Etsy has a compelling business model powered by differentiation and the sustained competitive strength generated by the network effect. Management is executing at a high level, revenue growth is accelerating, and profit margins are expanding even as the economy reopens.
Disclosure: I am/we are long ETSY.
Disclaimer: I wrote this article myself, and it expresses my own opinions. I am not receiving compensation for it. I have no business relationship with any ...
more