Energy Transfer: Cutting Your Payout, Not Mine
Too few writers covering energy infrastructure admit to the many distribution cuts inflicted on MLP holders. Instead, they identify numerous other problems whose resolution will draw in buyers. Incentive Distribution Rights (IDRs), the payments made by MLPs to their General Partners (GP), have drawn scorn for the past couple of years. Eliminating them is fashionable and now virtually complete, with only a handful of holdouts. Other solutions include self-funding growth projects. Common practice was for MLPs to pay out most of their cash and raise equity for new projects. It worked until the new projects became big. The Shale Revolution was responsible for that. Selling non-core assets is another piece of advice – it's rarely controversial. Few companies admit that any assets are non-core, until selling them.
All this free advice is directed both publicly and privately to help draw in new investors and lift stock prices. What's rarely mentioned are the widespread and substantial cuts in distributions that have alienated the income-seeking MLP investor base. Alerian has a chart showing "AMZ Normalized Distributions Paid", which shows a cumulative 25% cut 2015-17, if you do the math. Dividends on AMLP are down 34% from their high in 2014, although you won't find this on their website. Promises have been broken, and the buyers know this.
One reason others don't dwell too much on this issue is that many distribution cuts have been via mergers and simplifications. When a lower yielding GP acquires its MLP, the MLP investors are subjected to a "backdoor" distribution cut through owning a new security with a lower yield than the one they gave up.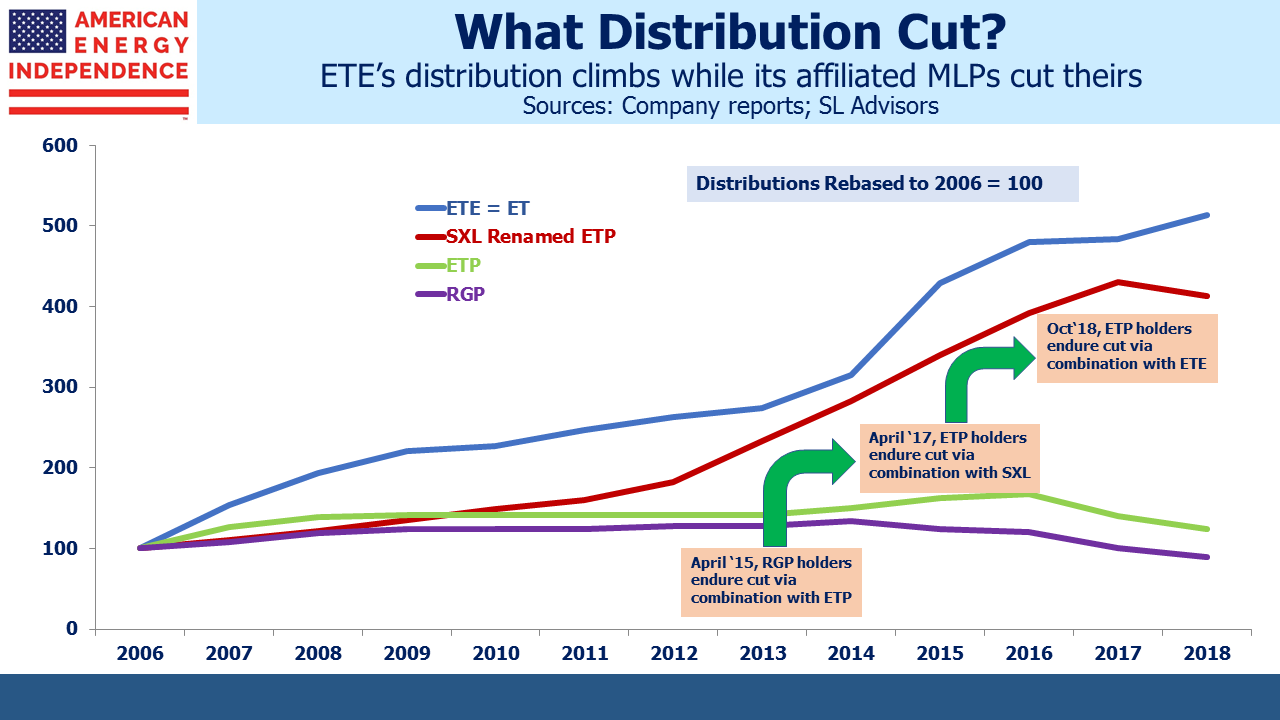 Energy Transfer has excelled at imposing such "stealth distribution cuts". Over the past four years they've rolled four publicly traded entities into one. In each case, the lower-yielding entity acquired the higher-yielding one, resulting in a lower distribution for investors in the acquiree.
Disclosure: We are invested in AMGP, ENLC, ET, KMI, OKE, PAGP, SEMG, TGE, TRGP, WGP and WMB. We are short AMLP.