Dow Jones Forecast: Three Dow Stocks To Watch In The Week Ahead
The Dow Jones, Nasdaq 100, S&P 500, and Russell 2000 trade at or near record levels, despite turbulent market conditions last week and lingering bouts of risk aversion this week. With sentiment seemingly at a crossroad, upcoming quarterly reports from some of the market's largest and most influential companies could play an impactful role in where the indices head next. While a plethora of corporations are due to report next week, the three listed below are set to be some of the most impactful for a variety of reasons.
MICROSOFT (MSFT)
Microsoft is set to report Tuesday afternoon and is currently the second largest company in the S&P 500 and Nasdaq 100 by market capitalization and therefore index weight. Beyond its size, recent price action reveals a gradual uptrend for the behemoth tech company as it trades within a few percentage points of its all-time high near $232.
Which stock has the most market-moving potential? Voice your opinion.
Potential resistance in the event of a positive price reaction to the news resides along the line drawn from its record high at $232. A break above this level could open the door to a continuation higher. Nearby resistance might exist around the $210 mark. Regardless of direction, Microsoft's weighting within the major indices lends it influence over the S&P 500 and Nasdaq 100, so a concerted move could be felt in the broader market.
MICROSOFT (MSFT) PRICE CHART: DAILY TIME FRAME (MARCH 2020 – JANUARY 2021)
(Click on image to enlarge)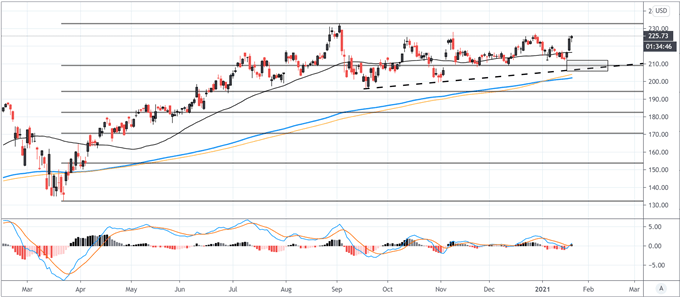 Chart created in TradingView by Peter Hanks
BOEING (BA)
Boeing was included in my previous list of important stocks to watch and it has consolidated further since. As we noted then, stock-specific issues have hamstrung the Chicago-based company and after a recent golden cross, it could be argued the technical outlook is encouraging.
With the Wednesday release of their earnings report likely to provide insight into the company's efforts to regain its footing, the event could provide the fundamental catalyst required to create upward momentum that the technical landscape is hinting – or cripple the attempted recovery if results fall short of expectations. Acting as a key component of the Dow Jones Industrial Average, a strong recovery in Boeing shares could see the blue-chip index close the gap to the S&P 500 and Nasdaq 100. As a member of the industrial sector, its performance could extend or curtail the rotation into the industry that has been a theme over the last few months.
Disclosure: See the full disclosure for DailyFX here.