Dax Outlook Still Bullish, More Upside Possible
The German Dax index has broken out of an ascending triangle recently. Germans have pumped over EUR 36 billion into equity funds, twice as much as in 2020 and the largest amount since 2000.
Investors keep buying German stocks as the European economies recover from the coronavirus pandemic. In the first six months of the year, German investors alone have pumped over EUR 36 billion into equity funds, the most in the last two decades and double the total amount invested in 2020.
As such, it comes as no surprise that the Dax index trades close to its all-time highs. It recently hit 16,000 and the outlook remains bullish. A possible ascending triangle suggests more upside is possible, and only a drop below 15,000 would spoil the bulls' party.
The U.S. indices corrected in the first days of the trading week, affected by weak retail data. The weakness triggered a move higher in the U.S. dollar and similar price action in European indices. As such, the FTSE 100 index dropped below 7,200, and the Spanish Ibex still has a hard time holding above 8,900.
Oil holds above $65, which means that the bullish bias persists, while gold builds energy to break above $1,800.
Economic Events to Consider Today
The main event of the trading week lies ahead – the FOMC (Federal Open Market Committee) Meeting Minutes. Market participants await details of the discussions at the previous meeting, looking for clues regarding the tapering of the asset purchases.
In the meantime, the Reserve Bank of New Zealand decided to postpone the rate hike that the market expected. It took the market by surprise in the most recent Asian session by not hiking and the Kiwi dollar fell more than one hundred pips.
Those trading the British pound and the Canadian dollar should keep an eye on the inflation data due to be released today. Inflation is expected to increase by 2.3% in July in the United Kingdom, respectively by 0.3% in Canada.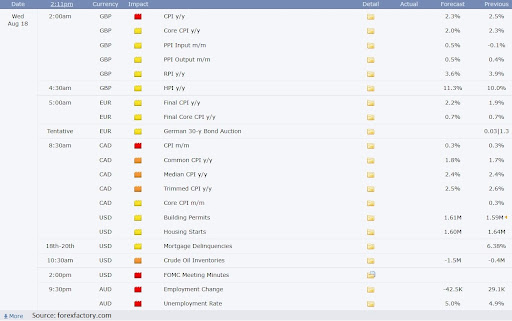 Today's Markets to Watch
Disclaimer: None of the content in this article should be viewed as investment advice or a recommendation to buy or sell. Past performance/statistics may not necessarily reflect future ...
more