Credit Suisse Surprises With $2 Billion Capital Raise, Still Has Exposure To Archegos In "Three Distinct Positions"
The second-largest Swiss bank has been a veritable volcano of bad news in the past month, and today was no different: in the bank's earnings call, Credit Suisse Group announced it was raising $2 billion from investors in the form of convertible notes, while also suspending its share buyback and cut the dividend - news which sent the stock tumbling as much as 7%...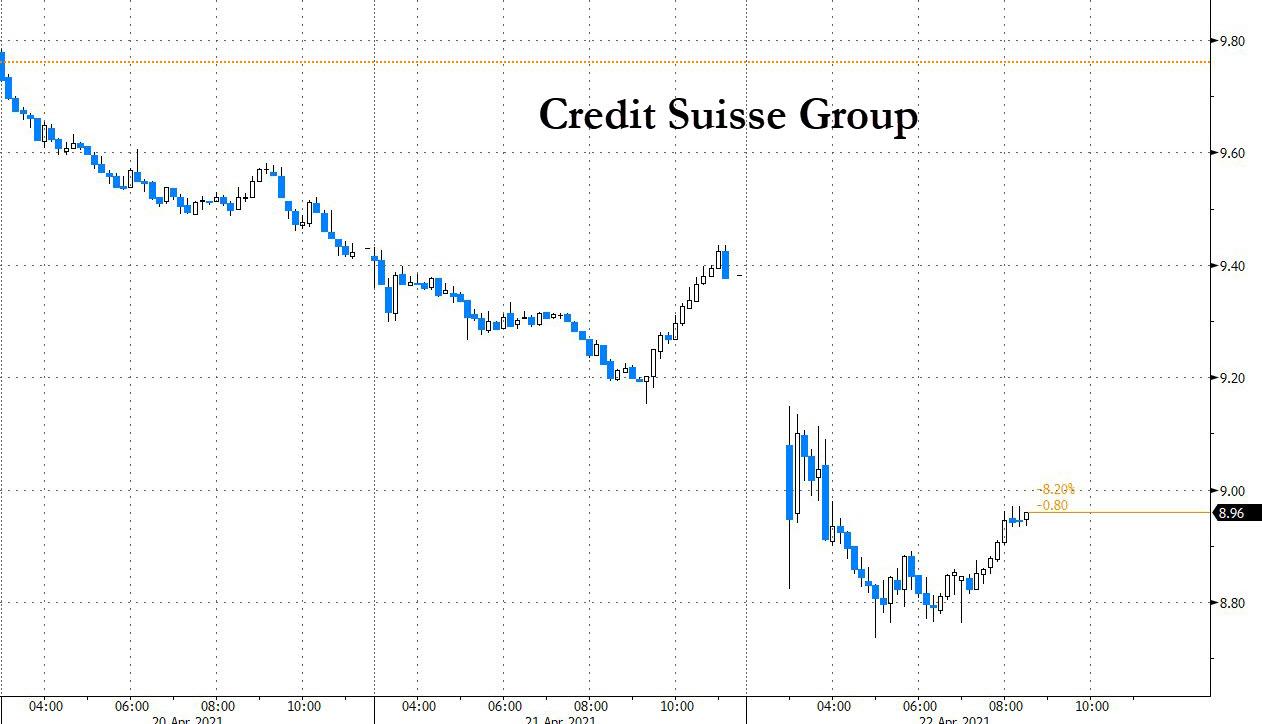 ... while also warning of even more pain from the Archegos collapse and cutting the hedge fund unit at the center of that particular fiasco as embattled CEO Thomas Gottstein seeks to recover from one of the most turbulent periods in the bank's recent history.
The bank said the convertibles notes were sold to core shareholders, institutional investors, and high net worth individuals and will help bring the bank's CET1 ratio nearer its target 13%. That number had dropped to 12.2% at the end of the first quarter. In addition to the enforcement proceedings, Credit Suisse said that the Swiss regulator has told it to hold more capital to guard against losses by taking a more conservative view of its risk. The bank increased its assets weighted according to risk for both Archegos and Greensill. But while the capital raise came after Finma raised the bank's capital requirements, Gottstein said the decision was the bank's own... because clearly, Credit Suisse is on top of all internal risk management.
"This was not as a reaction to any request by Finma or any other regulator," Gottstein said on a call with analysts. "It was our proactive view that, together with the board, we decided to issue these two mandatories and that will really help us also against any possible market weakness over the coming months."
Additionally, Credit Suisse, which said it has exited about 97% of its exposure to Archegos - yet it's that 3% that remains problematic as the nominal value of its exposure to Archegos keeps rising and late last night hit $20BN - said it expects a 600 million-franc ($654 million) loss in the second quarter, taking the total hit from the collapse to about $5.5 billion. In response, it's cutting about a third of its exposure in the prime business catering to hedge fund clients, while strengthening capital with the sale of notes converting into shares.
Disclaimer: Copyright ©2009-2021 ZeroHedge.com/ABC Media, LTD; All Rights Reserved. Zero Hedge is intended for Mature Audiences. Familiarize yourself with our legal and use policies every time ...
more