Clean Energy Isn't Just About Renewables
Technological advances in solar, wind and batteries receive widespread media coverage. Costs are falling and battery back-up is improving, vital to cope with renewables' intermittency. As Enbridge CEO Al Monaco noted last week (listen to our podcast, Oh Canada's Pipelines!), the world is going to use more energy, and consumption of every form of energy will increase. While the media focus is on renewables, fossil fuels represent 80% of global energy consumption. Improving what already works, by dealing with emissions, is also a recipient of considerable R&D.
Hydrogen is receiving increasing attention. It has a reputation for being perennially five years away from cost effectiveness – but investors are certainly taking note of anything that's hydrogen-related. A couple of months ago we noted how New Fortress Energy (NFE) had seen their stock triple this year on little more than vague plans to ship hydrogen (see Hydrogen Lifts an LNG Company).
The emission benefits of using hydrogen depend on how it's produced. The most common method is methane pyrolysis, which uses heat to separate hydrogen from carbon (methane is CH4). Another process applies electrolysis to water, which separates the hydrogen atoms from oxygen, Both require energy as an input.
(Click on image to enlarge)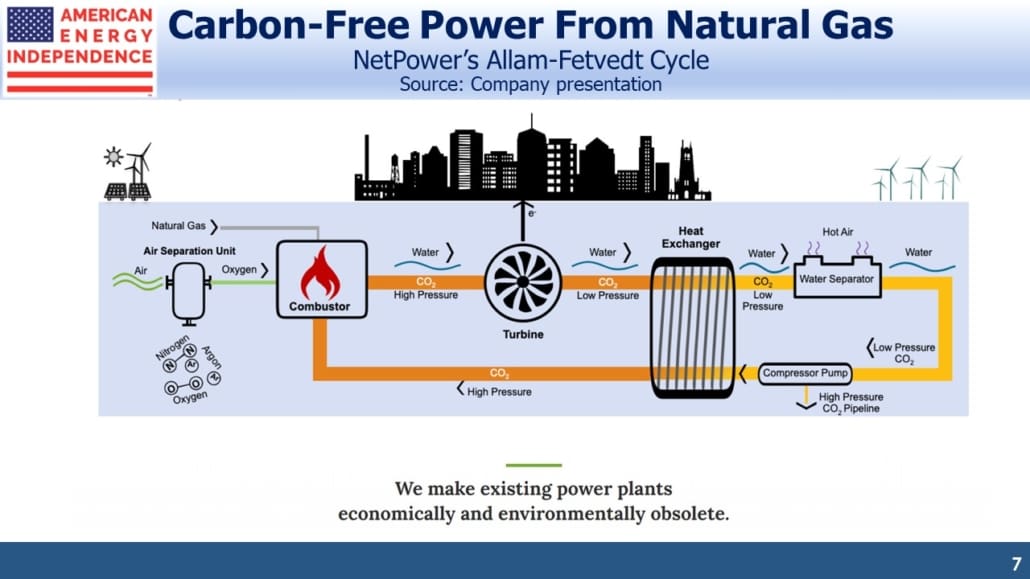 Most hydrogen in use today is "gray", meaning fossil fuels are used in its production. "Blue" hydrogen is derived from methane, with the CO2 that's produced as a by-product being captured. That's already a pretty good result. "Green" hydrogen relies on energy from renewables to power the extraction process.
Hydrogen is an appealing solution if costs can be brought down, because burning it produces water, not CO2. Compared with methane it is less dense, and causes the steel used in pipelines to become brittle, which means it can't currently be moved in a pure form through existing infrastructure.