E

China Mobile: The Value Stock Paying 6% Dividends No One Wants To Buy
What is China Mobile? China Mobile is the largest phone carrier in China. It is state-backed, like the other major Chinese telcos, China Unicom and China Telecom. As a result, China Mobile is intimately intertwined with the other two Telcos, as the Chinese government will often shift resources and management among the three of them to prevent any of them from developing too big of a market share.
Why is it a growth stock?
Although China Mobile most likely will not expand in terms of market share due to Chinese government intervention, they are positioned in one of the fastest growing markets in the world with ample room for growth. In 2013, 71.1% of Chinese people had cell phones, and that number has grown to 78% by 2017. In comparison, 90% of Americans have cell phones. Further, those that do have phones in China will use their phones more and more as their GDP per capita goes up; China Mobile is thus in many ways a great method for betting on China as a whole.
Why is it a value stock?
The sheer numbers behind China Mobile is enough to make a lot of investors scratch their heads. Their P/E ratio is only 10.79, implying that they are undervalued; in comparison the NASDAQ has a P/E ratio of 25.85. A quick look at their balance sheet also shows that they are liquid: they are sitting on 60 billion dollars in net cash. On top of this, last period they gave a 6% dividend. Despite this, the stock has been going down. In fact, in the last three years China Mobile has lost 28% of its market value, despite consistent revenue growth.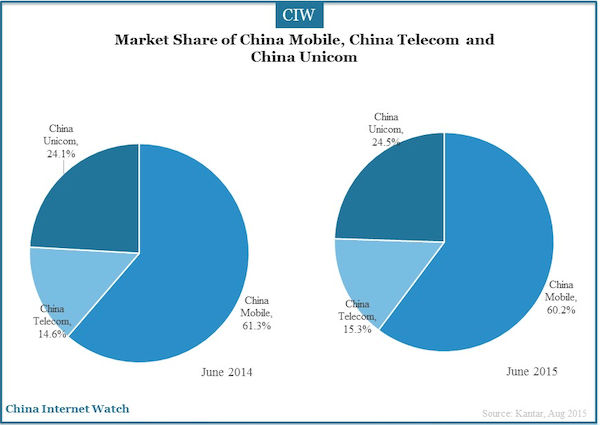 Why has its stock has plummeted?
So China Mobile is a large company with potential for growth and excellent financials; why is its stock going down?
To many investors, the fact that China Mobile has so much cash on hand is frightening. After all, why wouldn't they just reinvest their cash into new projects? They are the biggest phone provider in one of the fastest developing countries in the world, surely there must be positive NPV projects that they can invest in. In fact, since there hasn't been so much as a peep about China Mobile planning to use this cash, many institutional investors simply exclude it when valuing them.