Cerus Faces Pipeline Of Calamities Going Into 2021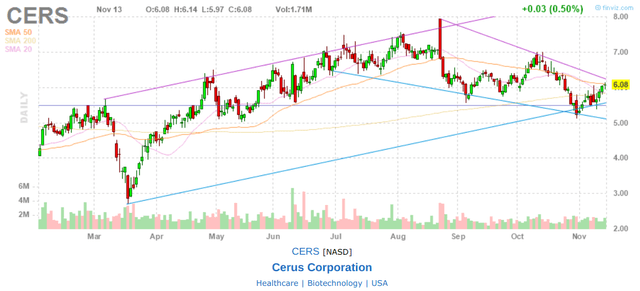 The second wave of COVID-19 is incipient, as the fate of one bloody Californian small cap company woefully misinterpreted as a potential player in curing the disease becomes clear.
Cerus Corporation (Nasdaq:CERS) markets the most commonly used and only FDA approved device for pathogen reduction [PR] of blood components intended for transfusion: the INTERCEPT™ Blood System [IBS]. Since going public nearly twenty-four years ago, Cerus has developed and brought to market the clinically approved system for two of three major blood transfusion products.
Following emergency termination of the first IBS pivotal trial in 2003, Cerus found redemption in 2006 CE Mark designation for the IBS treatment of plasma and platelet products intended for transfusion (this decision is currently up for review under the new policies of the MDR).
Ebola Outbreak Offers Cerus Initial U.S. Market Entry
FDA approval was phoned in following news that an outbreak of Ebola in Western Africa made its way to the United States via a lone traveler who flew from West Africa to Dallas in 2014. The 'patient zero' soon perished from the virus, and news coverage of the matter sparked nation-wide perturbation.
These circumstances catered to unprecedented preferential considerations for a new means of ostensible blood safety that was previously deemed unsafe by FDA on multiple occasions.
In the Summary of Safety and Efficacy Data (SSED) published by the FDA, the agency indicates,
The results of the radiolabeling studies of IBS treated platelets did not meet the FDA criterion of a difference no greater than 20% of the value of the control. However, for this particular platelet product that involves a pathogen reduction process, these results were regarded as acceptable because of the potential benefit of reducing risk of TTI.
Ironically, Cerus acknowledges that they "still do not have any clinical or commercial data on the efficacy of INTERCEPT to inactivate the Ebola virus."
Disclosure: I have no positions in any stocks/funds mentioned in this article, and have no plan to initiate exposure in any stocks/funds mentioned in this article in the next 48 hours. I wrote this ...
more