Cathie Wood's Ark Sinks Below $40 Billion As Bloodbath Continues
As tech limps away from its worst market pummeling in months, traders are keeping the pressure on Cathie Wood with PLTR and COIN still under pressure, and ARKK declining below 100. Although Wood has very publicly doubled down, there's been talk that short sellers see blood in the water, and won't let up until Cathie pukes.
Her flagship ARK Innovation fund has fallen 35% from the highs, and the slide continued Thursday, sliding below the key psychological level of $100 thwarting an early rally as it soon emerged that Wood's ARKK fund was spoiling the party for the tech recovery.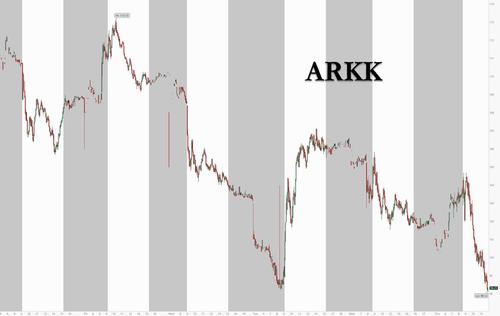 For investors who are wondering whether Wood might soon be forced to hit the gas on the selling, here's something to consider: Ark Investment Management just saw the AUM of its ETF lineup drop below $40 billion. Here's Bloomberg.
The founder of Ark Investment Management LLC now controls $39.7 billion in her U.S. exchange-traded funds, down from more than $60 billion at a peak in February, according to data compiled by Bloomberg. The firm is now the 11th largest issuer in the U.S., compared with seventh place earlier this year.
To be sure, practically all of this is due to the decline in many of Ark's top picks, and data shows her army of true-believing retail bagholders are either holding on, or doubling down (just like Cathie did).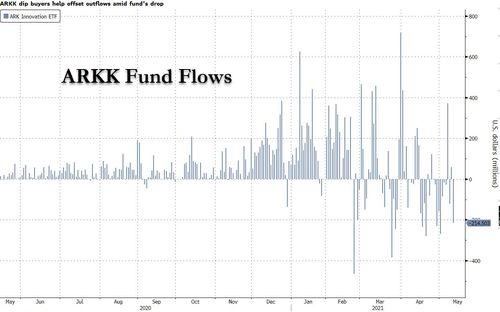 ARKK continues to drag down everything

— zerohedge (@zerohedge) May 13, 2021
Ark's funds have drawn a large fan base of retail traders who own the fund in their Robinhood or WeBull accounts, and these traders haven't abandoned Cathie en masse like some bears had expected. Only $76M was pulled from the fund in April, and only $301M has followed in May, compared with the $7.1 billion added during the first three months of the year. In fact, the firm's ETFs have still taken in a net $15.3 billion so far in 2021. The eight-product lineup -- six actively managed funds and two tracking indexes -- has roughly only lost a net $800 million since the end of February.
Disclosure: Copyright ©2009-2021 ZeroHedge.com/ABC Media, LTD; All Rights Reserved. Zero Hedge is intended for Mature Audiences. Familiarize yourself with our legal and use policies ...
more