E

Cannabis Central: Ayr Strategies Reports Disappointing Q2 Results
Ayr Strategies Inc. (AYRSF), a vertically-integrated cannabis multi-state operator, reported its Q2 financial results today for the three months ended June 30, 2020.
Q2 Financial Highlights (Unless otherwise noted, all results are presented in U.S. dollars and compared to the previous quarter.)
Revenue: decreased 16% to $33.6M
Gross Profit: increased 16% to $23.5M
Net Income (Loss): declined to $(7.5M) from $1.6M
Adj. EBITDA: increased 8% to $9.1M
Q2 Operational Highlight
announced that it has entered into an agreement to expand its footprint to include cultivation, production and dispensary assets in Pennsylvania.
Management Commentary
Jon Sandelman, Chief Executive Officer, had the following comments:
"Over the past four months, we have driven consistent, material month-over-month improvements in our operations.
We achieved monthly records for revenue, adjusted EBITDA and operating income in July.
We are currently operating at an exceptional $181 million and $77 million annual run rate for revenue and adjusted EBITDA, respectively.
Our success in the Massachusetts and Nevada markets, especially amid a challenging operating environment, demonstrates the power and discipline of our strategy as we take our approach into new markets.
Our entry into new markets will build on the successful operational foundation we have established over the last 12 months, where we drove exceptional organic growth across our business."
Stock Performance
Ayr is a constituent in the munKNEE Pot Stock Index of the 25 pure-play cannabis stocks that trade for at least US$1/share and it is UP 17% YTD.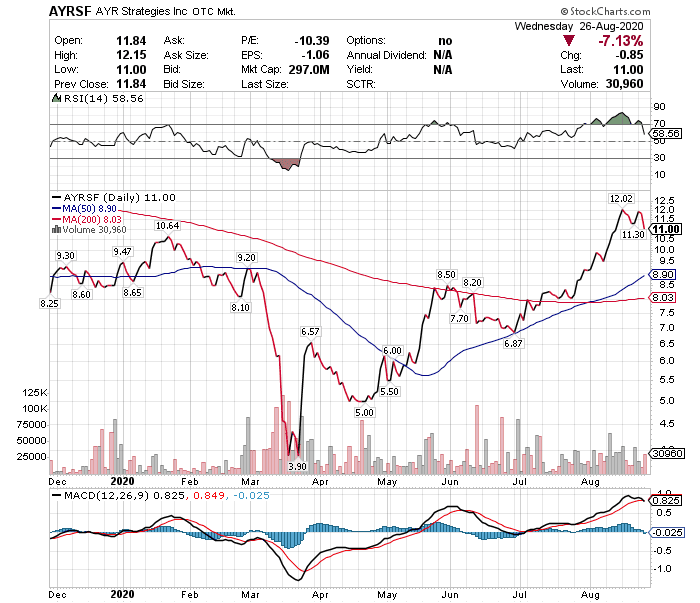 Visit munKNEE.com and register to receive our free Market Intelligence Report newsletter (sample more