E

Cannabis Central: Acreage Q2 Financials Showed Major Improvement
Acreage Holdings Inc. (ACRGF), a vertically integrated, multi-state operator of cannabis licenses and assets in the U.S., reported its Q2 financial results yesterday.
Financial Highlights (All financial information is provided in U.S. dollars - go here to convert into another currency - and compared to the previous quarter.)
Revenue: increased by 12% to $27.1M
Gross Margin: increased by 30 basis points to 41.4%
Net Loss: decreased by 78% to $(37.2M)
Net Loss/Share: decreased by 82% to $(0.38)
Adj. EBITDA: improved by 46% to $(6.7M)
Management Commentary
Bill Van Faasen, Interim Chief Executive Officer said:
"I am very pleased with our second quarter financial results.
Our refocused strategy is working as seen in our improved margins and EBITDA.
While there is still much work to do, I am encouraged Acreage has turned the corner toward an accelerated path to profitability."
Stock Performance
The stock price is down 51% YTD and continued to slide today in spite of the Q2 report of considerable improvement in all aspects of its operation as the chart below so clearly illustrates: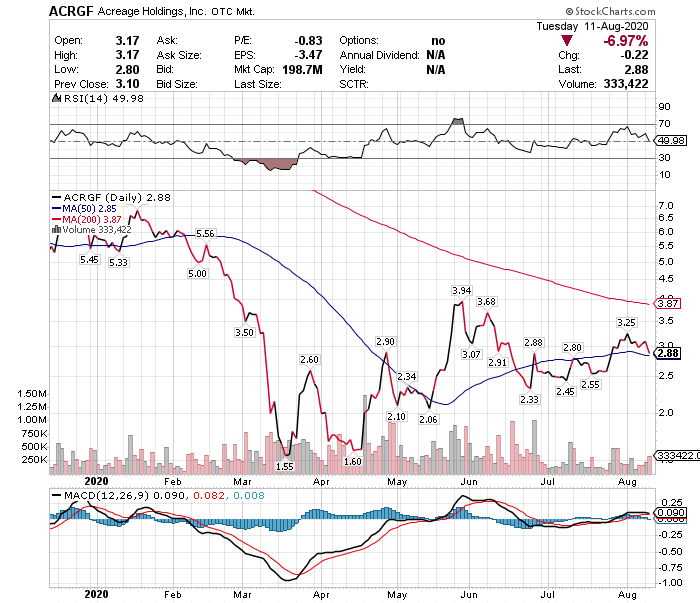 Visit munKNEE.com and register to receive our free Market Intelligence Report newsletter (sample more