Can Anyone Catch America In Plastics?
Ethane prices recently hit a four year high. Although this garnered far less attention than the crude oil rally, increasing supplies of ethane is an unappreciated element of the Shale Revolution.
"Dry" natural gas consists of methane, most commonly supplied to residential gas stoves but also increasingly used by power plants to produce electricity. "Wet" gas includes other natural gas liquids (NGLs), such as ethane (more below), propane (used in your outdoor BBQ), butane (cigarette lighters) and other more obscure NGLs such as isobutene. Typically, the NGLs and other impurities are separated out from the wet gas, leaving methane as the natural gas that flows to customers. Because NGLs have marketable value, wet gas is more desirable.
Ethane, once converted to ethylene through "cracking" is the principal input into production of polyethylene. Simply put, ethane is turned into plastic. Polyethylene is manufactured in greater quantities than any other compound.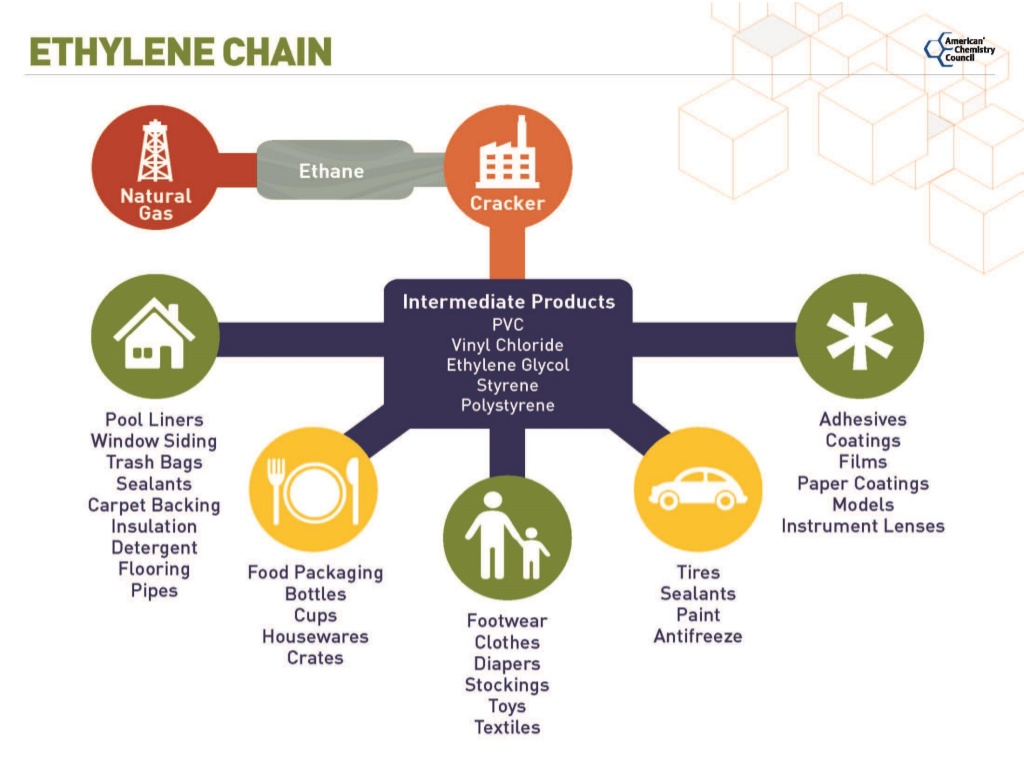 The process is fascinating, and naturally the internet provides ample information. Ethane molecules are broken through heating ("cracked" in industry parlance), and the ethylene produced undergoes further processing into polyethylene pellets. These plastic pellets come with different properties such as strength, flexibility and melting point, which determine their ultimate use. They are heated and molded into many thousands of consumer and specialty products. For an absorbing description that follows ethane molecules from extraction to ultimate use, the Houston Chronicle's three-part series Texas petrochemical plants turn ethane into building blocks of plastic is highly readable.
Among many fascinating steps, we learn that molten polyethylene pellets are blown into a very thin cylindrical balloon, several hundred feet long. This is then turned into sheets by passing through rollers, and multiple sheets are combined depending on the desired thickness. In the article, these ethane molecules ultimately traveled as plastic pellets to Vietnam where they were processed into packaging for frozen shrimp that was shipped back to the U.S. The petrochemical industry makes this happen.