Buy/Sell: Wall Street's Top 10 Stock Calls This Week - Sunday, Jan. 22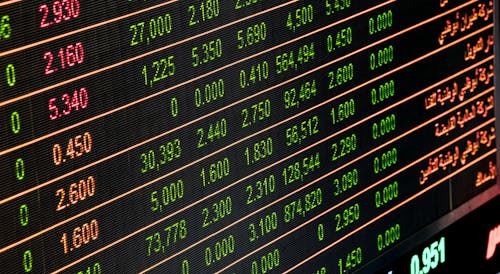 Image Source: Pexels
What has Wall Street been buzzing about this week? Here are the top 5 buy calls and the top 5 sell calls made by Wall Street's best analysts during the week of Jan. 16-20, 2023. First, let's start with the week's top 5 buy calls.

Adobe (ADBE) – William Blair Starts Coverage of the Stock With an Outperform
On Jan. 17, William Blair analyst Jake Roberge initiated coverage of Adobe with an Outperform rating. Adobe has built a sizable competitive moat for its platform by remaining hyper-focused on its three core markets of creative, marketing, and document workflows, which has helped the company build deep vertical expertise within each of these segments, Roberge tells investors.
While acknowledging Adobe is already at a large scale, the analyst says he believes the company's addressable market is significant, and he foresees numerous drivers of growth.

Domino's Pizza (DPZ) – Morgan Stanley Upgrades Stock to Overweight, Ups Target to $430
On Jan. 17, Morgan Stanley analyst Brian Harbour upgraded Domino's Pizza to Overweight from Equal Weight with a price target of $430, up from $370, after assuming coverage of the name. Domino's Pizza is better positioned to handle a downturn than in the past, and it has an attractive multi-year opportunity to continue to consolidate the carryout market, Harbour tells investors in a research note.

CrowdStrike (CRWD) – BMO and Scotiabank Start Coverage of the Name With Buy-Equivalent Ratings
On Jan. 18, BMO Capital analyst Keith Bachman initiated coverage of CrowdStrike with an Outperform rating and a $120 price target, citing his belief that CrowdStrike offers "best-in-class endpoint security capabilities" and an expanding platform that will help it compete against Microsoft and others. He also thinks CrowdStrike will benefit from consolidation, particularly as organizations adopt XDR.
Scotiabank analyst Patrick Colville also started coverage of Crowdstrike with an Outperform rating and a $132 price target.
CrowdStrike has "a great product," is early in its penetration of a "robust" end-market, and has scale and profitability, making it "one of the very few companies" where the analyst doesn't see an overhang risk in 2023, Colville tells investors. Consensus ARR and free cash flow estimates have been reset to a level he views as "eminently achievable."

Global Payments (GPN) – Morgan Stanley Upgrades Stock to Overweight, Ups Target to $135
On Jan. 17, Morgan Stanley analyst James Faucette upgraded Global Payments to Overweight from Equal Weight with a price target of $135, up from $124.
The analyst cites a more favorable competitive backdrop, attractive valuation, the company's "better recession resilience than feared," and its consistent execution on strategic acquisitions as reasons for the upgrade. The competitive environment is changing to favor the incumbents in the payments space, Faucette tells investors in a research note. He believes the shares offer a "compelling valuation" at current share levels.

Philip Morris (PM) – Stock Upgraded at Jefferies as Tobacco Sentiment May Finally Improve
On Jan. 19, Jefferies analyst Owen Bennett upgraded Philip Morris to Buy from Hold with a price target of $118, up from $86.
Tobacco sector sentiment could "finally" shift in 2023 as a likely search for returns in the current market environment could trigger work to better understand the space, Bennett contends. While maybe not recession-proof, "tobacco is certainly recession-resistant," with better returns in a deteriorating macro backdrop, Bennett tells investors.
Now, let's move on to the week's top 5 sell calls.

Microsoft (MSFT) – Guggenheim Downgrades the Stock to Sell With a Price Target of $212
On Jan. 17, Guggenheim analyst John DiFucci downgraded Microsoft to Sell from Neutral with a $212 price target. While stating that his call on the software sector "hasn't really changed" since he launched coverage in August, the analyst says he believes "numbers still have to come down for many" in the group.

PayPal (PYPL) – SMBC Nikko Downgrades the Stock to Underperform, Lowers Price Target to $75
On Jan. 18, SMBC Nikko analyst Andrew Bauch downgraded PayPal to Underperform from Neutral with a price target of $75, down from $95. At a bare minimum, the rate of PayPal's branded share of checkout gains has slowed considerably, particularly in 2022, Bauch tells investors in a research note. The analyst believes PayPal has never been more vulnerable to branded share losses.

Roblox (RBLX) – Morgan Stanley Downgrades the Stock to Underweight, Cuts Target to $24
On Jan. 19, Morgan Stanley analyst Matthew Cost downgraded Roblox to Underweight from Equal Weight with a price target of $24, down from $27.50.
Cost believes the bookings reacceleration in the first half of the year is priced in, with more mixed catalysts lying ahead. The analyst expects slower growth in the second half of 2023 and minimal upside from advertising in the near-term. Cost views North America trends and immersive ads as unlikely to drive further upward revisions this year.

Charles Schwab (SCHW) – BofA Double Downgrades the Stock to Underperform from Buy
On Jan. 19, BofA analyst Craig Siegenthaler double downgraded Charles Schwab to Underperform from Buy with a price target of $75, down from $92, citing his view that client cash sorting will continue at an elevated pace in the first half of the year, pressuring liquidity, interest earnings assets, and bank deposit account levels.
He also believes the Fed will end its interest rate hiking cycle this summer, which will remove a "powerful near-term profit driver" for Schwab. Siegenthaler, however, is more cautious on rate-sensitive brokers such as Schwab and LPL Financial.

Cognizant (CTSH) & DXC (DXC) – MoffettNathanson Downgrades Both Stocks to Underperform
On Jan. 19, MoffettNathanson analyst Lisa Ellis downgraded Cognizant and DXC Technology to Underperform from Market Perform with price targets of $60 and $28, down from $70 and $32, respectively. While noting that the firm's most recent CIO survey, which was released two weeks ago, pointed toward continued strong demand for IT Services in 2023, the analyst also argues that the "rising tide only floats some boats."
---
More By This Author:
Buy/Sell: Wall Street's Top 10 Stock Calls This Week - Saturday, Jan. 14
Buy/Sell: Wall Street's Top 10 Stock Calls This Week - Saturday, Jan. 7
Tesla Reports Q4 Deliveries Of 405,278 On Production Of 439,701