Buy E-Commerce Stock Chewy Down 35% Before Q1 Earnings?
Chewy (CHWY - Free Report) shares soared over 300% from their March 2020 lows until Wall Street began to sell pandemic high-flyers in February. The e-commerce pet store stock currently sits about 35% below its records heading into its first quarter fiscal 2021 financial release on Thursday, June 10.
CHWY has regained some of its momentum since mid-May. So, let's see if investors might want to consider buying the beaten-down e-commerce firm that still boasts a solid growth outlook.
Pet Lover Spending
Chewy, which was founded in 2011 and went public in 2019, is an e-commerce pet store with relatively speedy delivery. The firm sells pet food, supplies, treats, medications, and more for a variety of animals. Chewy has found success by adding loyal pet owners to its ranks, with 70% of revenue coming from its Autoship business that allows people to have food and more delivered at regular intervals.
Chewy added 43% more users in 2020 to close the year with 19.2 million and its Autoship unit creates consistent revenue. The company last October launched its telehealth service called Connect with a Vet. The telehealth service, only available to Autoship customers, could be a hit as people opt for convenience where they can.
Chewy has also boosted its pharmacy offerings and it announced on May 21 the expansion of its telehealth service to include free video consultations, extended hours, and more. All of this has helped established CHWY as a player poised to thrive in the e-commerce world dominated by Amazon (AMZN - Free Report) , Target (TGT - Free Report) , and Walmart (WMT - Free Report) .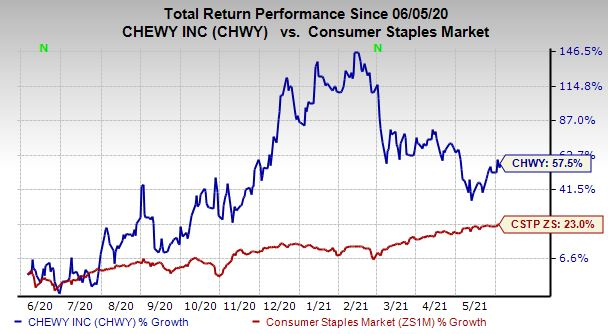 Image Source: Zacks Investment Research
Other Fundamentals
Chewy's 2020 revenue surged 47% to $7.15 billion to beat FY19's 37% sales expansion. Plus, it reported its first quarterly profit in Q4, crushing our bottom-line estimates by 222% to extend its streak of impressive beats to three-straight quarters.
Disclaimer: Neither Zacks Investment Research, Inc. nor its Information Providers can guarantee the accuracy, completeness, timeliness, or correct sequencing of any of the Information on the Web ...
more