Bull Of The Day: Meta Platforms, Inc.
Image Source: Pixabay

Meta Platforms ((META - Free Report) ) shares have rocketed well over 100% since early November as the company finally commits to cutting costs as its top-line growth slows after a decade-plus of rapid expansion. Meta stock might be a bit overheated right now, but its valuation is still highly attractive and it trades 40% below its peaks.
Crucially, the parent company of Facebook, Instagram, and WhatsApp reaches billions of people a day and its user base continues to grow. This means Mark Zuckerberg's metaverse bet doesn't have to pay off anytime soon, or possibly ever in order for Meta stock to churn out steady revenue expansion and huge profits.
Slimming Down, Still Resilient
Meta, like Amazon ((AMZN - Free Report) ) and others over-hired during the pandemic boom, and now it is trimming its staff. The company closed in 2022 with a headcount of roughly 86K, up 20% YoY. But that figure included a "substantial majority of the approximately 11K employees impacted" by its November layoff announcement.
Meta in mid-March announced plans to cut another roughly 10K jobs in what Zuckerberg has referred to as a "year of efficiency." Meta also said when it reported its Q4 results that it took "several measures to pursue greater efficiency and to realign our business and strategic priorities," which included a "facilities consolidation strategy… a pivot towards a next-generation data center design" and more.

Image Source: Zacks Investment Research
Meta, which first announced its name change from Facebook in the fall of 2021, has been forced to take a step back from its bets on people living in its metaverse world. The company in August said it would raise $10 billion in its first-ever bond offering to help fund buybacks and feed investments to revamp its business, among other efforts.
Meta closed 2022 with $9.9 billion in long-term debt (first ever) to bring its total liabilities to $60 billion vs. $186 billion in assets, including $41 billion in cash, cash equivalents, and marketable securities. It repurchased $28 billion worth of stock in 2022 and it boosted its buyback program by $40 billion.

Image Source: Zacks Investment Research

Looking Ahead
The social media titan's disappointing 2022 is in the rearview and it is ready to return to top and bottom-line growth as it focuses on its core businesses: Facebook, Instagram, and WhatsApp, all of which will bounce back from a bad year from digital advertising because their collective reach is out of this world. Meta's 'monthly active people' popped 4% in Q4 to 3.74 billion, while daily active users jumped 5% to 2.96 billion or nearly 40% of the entire world.
Zacks estimates call for Meta's 2023 revenue to climb 5% to $122 billion (following its 1% YoY decline—it's first ever) and then jump 11% in FY24 to $135 billion. Meanwhile, Meta's adjusted earnings are projected to jump 6% in FY23 and 21% in 2024.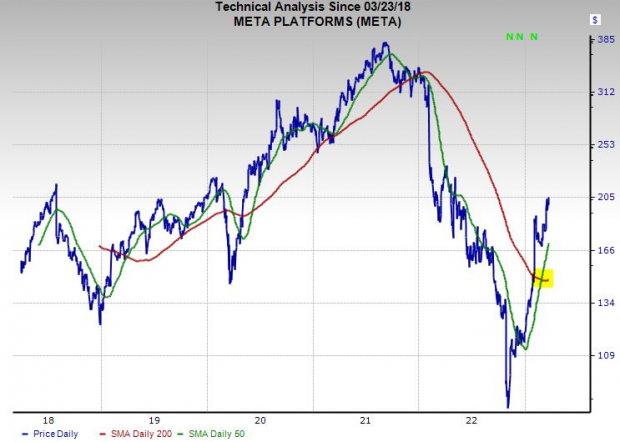 Image Source: Zacks Investment Research

Other Fundamentals
Meta's soaring earnings revisions help it land a Zacks Rank #1 (Strong Buy) right now and it crushed our Q4 estimate by 41%. The company's Internet – Software industry is currently in the top 24% of 250 Zacks industries right now.
Meta shares have skyrocketed roughly 130% since their early November lows from around $90 a share to roughly $205 per share on Thursday. This run includes a 70% surge in 2023 alone to outpace Tesla's 60%.
The stock has climbed 700% in the past decade vs. the Zacks tech sector's 215%. Yet, it trades around 40% below its 2021 peaks. And it sits 10% under its average Zacks price target and below where it was at points during 2018 and its pre-pandemic levels.
Meta's huge run higher has it back above both its 50-day and 200-day moving averages. Plus, Meta experienced a so-called golden cross near the end of February. This is when the shorter-term moving average climbs above the longer-term trend, which technical traders see as a bullish signal (see nearby chart).
Meta is trading at a discount to the Zacks Tech sector's 22.4X at 18.4X forward 12-month earnings. The company is now being valued as a more mature, slower-growth tech stock, with Meta at a 33% discount to its decade-long median and miles below its highs.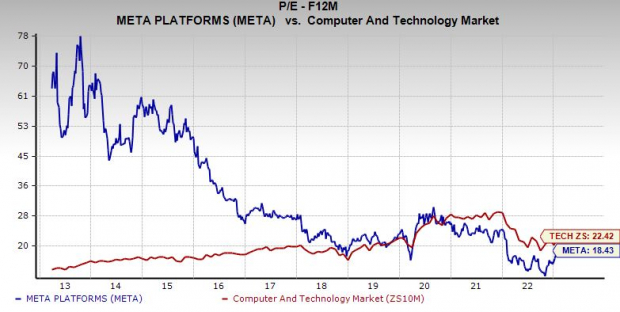 Image Source: Zacks Investment Research

Bottom Line
Meta could face near-term selling pressure as it and other soaring stocks are near overbought RSI levels. But investors with long-term holding periods shouldn't be too afraid of picking up the owner of Facebook, Instagram, and WhatsApp now or in the near future. Just think, 85% of the brokerage recommendations Zacks has for Meta are "Strong Buys," next to only one sell.
Despite a rough year for digital ads and the shakeup Apple's privacy changes caused, digital ads are not going anywhere because companies need to get in front of people where they are, which is on their phones and devices. Advertisers will adapt and pay to reach Meta's billions of users.
---
More By This Author:
Market-Beating Stocks To Buy For March And Hold
3 Great Value Stocks To Buy Now For Steady Long-Term Growth
3 Highly-Ranked Stocks That Beat The Market In 2022 To Buy Now
Disclaimer: Neither Zacks Investment Research, Inc. nor its Information Providers can guarantee the accuracy, completeness, timeliness, or correct sequencing of any of the Information on the Web ...
more