Bull Of The Day: Eaton Corp.
Eaton Corporation (ETN) , a Zacks Rank #1 (Strong Buy), is an intelligent power management company with a strong track record of shifting its business initiatives to adapt to the world around it. Eaton began as an auto parts supplier more than a century ago, and now derives the vast majority of its revenue from electrical products. ETN shares are widely outperforming the market this year with the backing of a leading industry group. The stock is hitting all-time highs and displaying relative strength as buying pressure accumulates in this market leader.
The diversified industrial company is part of the Zacks Manufacturing - Electronics industry group, which ranks in the top 13% out of more than 250 Zacks Ranked Industries. Because it is ranked in the top half of all Zacks Ranked Industries, we expect this group to outperform the market over the next 3 to 6 months. This industry really picked up momentum over the previous 3 months:
(Click on image to enlarge)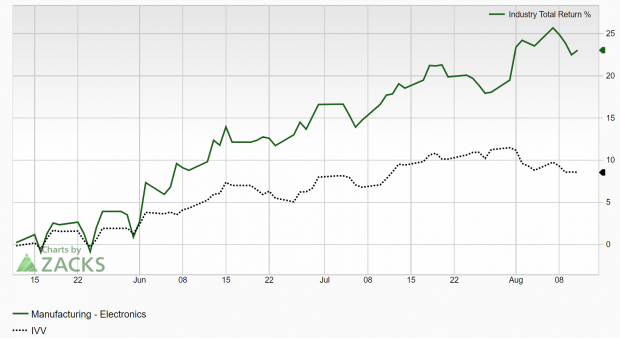 Image Source: Zacks Investment Research
Historical research studies suggest that approximately half of a stock's price appreciation is due to its industry grouping. In fact, the top 50% of Zacks Ranked Industries outperforms the bottom 50% by a factor of more than 2 to 1. It's no secret that investing in stocks that are part of leading industry groups can give us a leg up relative to the market. By focusing on leading stocks within the top 50% of Zacks Ranked Industries, we can dramatically improve our stock-picking success.
Company Description
Eaton operates as a global power management company. Its Electrical segment provides electrical and industrial components, power distribution and assemblies, residential products, circuit protection, and power reliability equipment. In addition, this segment offers hazard and safety products such as emergency lighting, fire detection, and structural support systems.
Eaton's Aerospace segment provides pumps, motors, hydraulic power units, aircraft systems, and sealing and ducting products. Its Vehicle segment offers transmissions, clutches, hybrid power systems, engine valves, and transmission controls. Furthermore, its eMobility segment provides power distribution systems, voltage inverters, and commercial vehicle hybrid systems.
Eaton has been consistently investing in research and development (R&D) initiatives to introduce new and exciting products, including power management solutions that will reduce energy consumption and carbon emissions. The company has laid out a 10-year plan that includes a $3 billion investment in R&D programs.
Just a few weeks ago, Eaton announced a game-changing new approach that simplifies electric vehicle fleet charging by eliminating costly cable runs and major modifications to existing parking and conveyor structures. Eaton is using electrical distribution technology to streamline fleet charging for zero-emission pickup and delivery vehicles without traditional charging pedestals.
Earnings Trends and Future Estimates
ETN has built up an impressive earnings history, surpassing earnings estimates in each of the last four quarters. Earlier in August, the Dublin, Ireland-based company reported second-quarter earnings of $2.21/share, a 4.74% surprise over the $2.11 consensus estimate. Earnings grew 18.2% year-over-year, while revenues improved 12.5% from the year-ago quarter.
(Click on image to enlarge)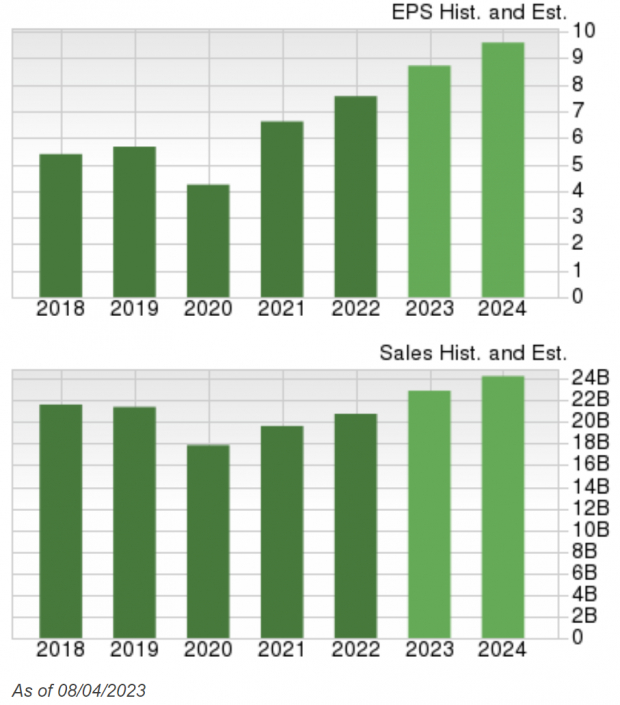 Image Source: Zacks Investment Research
Eaton has delivered a trailing four-quarter average earnings surprise of 2.96%. Consistently beating earnings estimates is a recipe for success.
Analysts covering ETN are in agreement and have been increasing their earnings estimates across the board. For the current fiscal year, analysts have bumped up earnings estimates by 3.67% in the past 60 days. The 2023 Zacks Consensus EPS Estimate now stands at $8.76/share, reflecting potential growth of 15.72% relative to the prior year. Revenues are projected to climb 10.86% to $23 billion.
(Click on image to enlarge)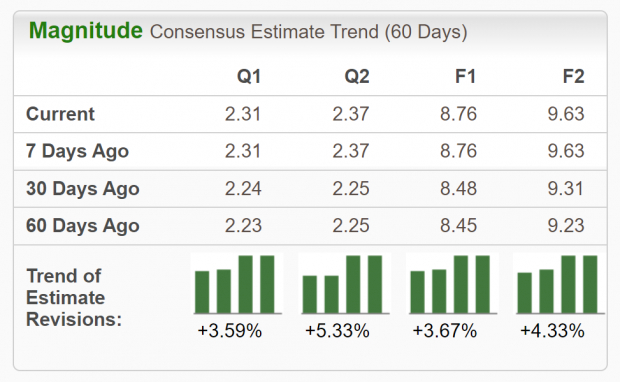 Image Source: Zacks Investment Research
Let's Get Technical
ETN shares have advanced nearly 42% this year. This is the kind of stock we want to include in our portfolio – one that is trending well and receiving positive earnings estimate revisions.
(Click on image to enlarge)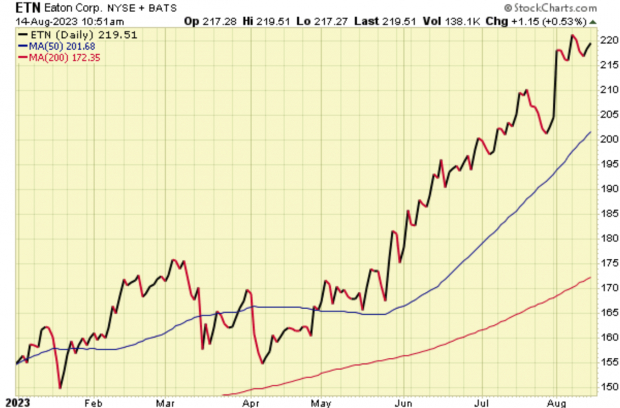 Image Source: StockCharts
Notice how both the 50-day (blue line) and 200-day (red line) moving averages are sloping up. The stock has been making a series of higher highs. With both strong fundamentals and technicals, ETN is poised to continue its outperformance.
Empirical research shows a strong correlation between near-term stock movements and trends in earnings estimate revisions. As we know, Eaton has recently witnessed positive revisions. As long as this trend remains intact (and ETN continues to deliver earnings beats), the stock will likely continue its bullish run this year.
Bottom Line
The future looks bright for this highly-ranked, leading stock. Eaton has shown an ability to adapt to the ever-changing technological landscape, which puts the company in a strong position moving forward.
Backed by a leading industry group and impressive history of earnings beats, it's not difficult to see why this company is a compelling investment. Robust fundamentals combined with an appealing technical trend certainly justify adding shares to the mix.
---
More By This Author:
Target Lined Up For Q2 Earnings: What's In Store?
Bear Of The Day: Corteva
Bull Of The Day: Holley
Disclaimer: Neither Zacks Investment Research, Inc. nor its Information Providers can guarantee the accuracy, completeness, timeliness, or correct sequencing of any of the Information on the Web ...
more