Bull Of The Day: Chico's FAS
Chico's FAS, Inc. (CHS) still has momentum from the pandemic as women are shopping for apparel for experiences, like weddings, and back-to-work. This Zacks Rank #1 (Strong Buy) is expected to see earnings growth this year and next.
Chico's FAS is a fashion company with three distinct brands for women: Chico's, White House Black Market and Soma. It sells clothing, shoes, accessories and intimate apparel through brick-and-mortar boutiques, digital online boutiques and through StyleConnect, the company's customized, branded, digital styling tool.
As of July 30, 2022, it operated 1,258 stores in the US and sold merchandise through 58 international franchise locations in Mexico and 2 domestic airport locations. Chico's FAS also operates the websites at chicos.com, chicosofftherack.com, whbm.com and soma.com.
A Record Fiscal Second Quarter
On Aug 31, Chico's FAS reported its fiscal second quarter results and beat the Zacks Consensus Estimate by $0.09. Earnings were $0.34 compared to the Zacks Consensus of $0.25. It was the fourth beat in a row.
It was also a record second quarter with comparable sales jumping 19.5%. White House Black Market was up 32%, Chico's was up 30% but Soma fell 9% as consumers pulled back on lounge and cozy on the economic re-opening. You aren't wearing the sweat pants to a wedding.
However, all three brands are up over the same quarter in 2019, which was pre-pandemic.
The quarter was also boosted by the company's new loyalty program which Chico's FAS said was being embraced by customers. Loyalty programs work.
Gross margins rose 300 basis points to 41.4% year-over-year on fewer promotions.
However, inventories jumped year-over-year to $338.8 million from $202.1 million last year thanks to elevated in-transit inventories. On-hand inventories were also up, jumping 25%, but that was due to high consumer demand and the intent to meet that demand.
Will inventories be a problem heading into the holiday season? Keep an eye on the promotions.
Full Year Earnings Estimates Jump
Chico's is a small cap retailer with a market cap of just $624 million. It has little coverage on the Street. Zacks.com only has one earnings estimate for this year and next but that analyst is bullish.
Third quarter guidance wasn't doom and gloom even though the gross margin forecast did come down to a range of 38.9% to 39.4%.
The Zacks Consensus for fiscal 2022 has risen to $0.85 from $0.72 in the last 2 months. That's earnings growth of 113% from fiscal 2021 as the company only made $0.40 that year.
The analyst is also bullish about next year, seeing another 11.8% earnings growth for fiscal 2023.
Shares are Dirt Cheap
Like other retail stocks, Chico's FAS shares came storming out of the gate during the pandemic rebound in 2020 and 2021. Over the last 2 years, shares are up 326%.
But this year, shares have slipped 7.3% on the year. However, they are mostly holding onto a narrow trading range above their pre-pandemic level.
(Click on image to enlarge)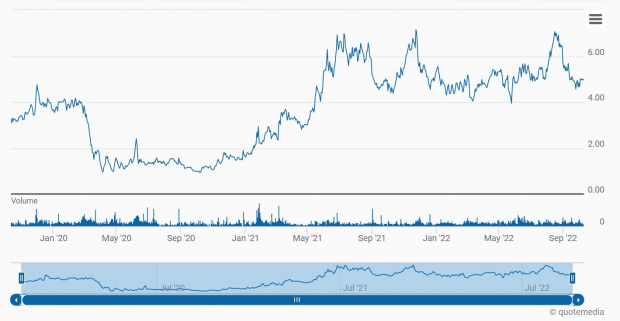 Image Source: Zacks Investment Research
Chico's FAS is dirt cheap with a forward P/E of just 5.8.
The question is what will happen this holiday season. Who can keep promotions to a minimum? Who will be on trend? Holiday parties will return but will women be buying new outfits?
Chico's FAS has kept its recent momentum, which is impressive in the competitive apparel category.
For investors looking for a cheap retail stock with a strong outlook, Chico's FAS is one to keep on the short list.
---
More By This Author:
Bear of the Day: Stanley Black & Decker
Should You Sell Your FANGMAN Stocks?
Bull Of The Day: Titan Machinery
Disclaimer: Neither Zacks Investment Research, Inc. nor its Information Providers can guarantee the accuracy, completeness, timeliness, or correct sequencing of any of the Information on the Web ...
more