Bull Of The Day: AMN Healthcare (AMN)
Photo by Hans Eiskonen on Unsplash
AMN Healthcare Services (AMN - Free Report) continues to grow as demand for healthcare workers and solutions soar. This Zacks Rank #1 (Strong Buy) is expected to grow earnings by the double digits again in 2022.
AMN Healthcare operates as a total talent solution for healthcare organizations across the United States. Those total talent solutions include managed services programs, clinical and interim healthcare leaders, temporary staffing, executive search solutions, vendor management systems, recruitment process outsourcing, predictive modeling, language interpretation services, revenue cycle solutions, credentialing, and other services.
Its clients include acute-care hospitals, community health centers and clinics, physician practice groups, retail and urgent care centers, home health facilities, schools, and other healthcare settings.
Another Beat in the Fourth Quarter
On Feb 17, AMN Healthcare reported its fourth-quarter results and beat the Zacks Consensus Estimate by 14%. It reported earnings of $2.95 compared to the Zacks Consensus of $2.58.
AMN Healthcare has a perfect 5-year earnings surprise track record. It has not been missed in that time, not even during the start of the pandemic.
Few companies have a perfect 5-year record. That's impressive.
(Click on image to enlarge)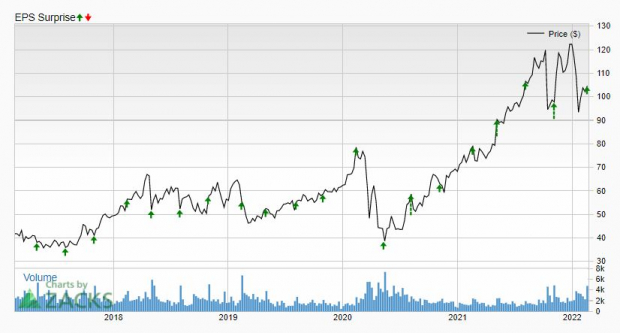 Image Source: Zacks Investment Research
Revenue rose 116% to $1.36 billion year-over-year and was up 73% sequentially. All segments saw gains with Travel Nurse up 136% year-over-year and 73% sequentially. Allied revenue jumped 82% year-over-year and 35% sequentially.
The quarter also included $85 million of labor disruption revenue compared with just $14 million in the guidance, $23 million in the prior quarter, and $3 million a year ago.
The Physician and Leadership Solutions segment grew revenue by 47% to $164 million year-over-year and 9% sequentially. Locum tenens revenue jumped 46% to $99 million year-over-year and was up 12% sequentially. This was its highest level since the third quarter of 2018.
Interim leadership revenue rose 49% year-over-year but fell 1% sequentially. Search revenue was also higher, growing 52% year-over-year.
Technology and Workforce Solutions was also strong, rising 62% to $117 million and 17% sequentially. VMS revenue grew by 165% to $52 million year-over-year and 57% sequentially as clients increased use of contingent labor. Additionally, language interpretation revenue rose 24% to $47 million year-over-year but was flat sequentially.
Gross margin fell 100 basis points to 31.9% due to increases in compensation for healthcare professionals and a mixed shift toward lower-margin staffing businesses.
"Our allied staffing business hit an all-time high for travelers on assignment so far in the first quarter, and our locum tenens division saw demand surge by 25% from Q3 to Q4 and continues to be strong entering 2022," said Susan R. Salka, CEO.
"Our physician permanent placement and outsourced solutions businesses have seen a large increase in new searches," she added.
Analysts Bullish on 2022
According to AMN Healthcare, demand was strong throughout 2021, and into 2022, as healthcare organizations saw record job vacancies, high turnover from employee burnout, quarantined workers, retirements, and changing worker preferences for more career flexibility.
The analysts are bullish on 2022 given these trends.
Over the last 7 days, 6 estimates have been revised higher for 2022 pushing the Zacks Consensus Estimate up to $9.25 from $6.63.
That's an earnings growth of 15.2% as AMN Healthcare made $8.03 last year.
Shares Are Cheap
Despite having a great 2021 and being upbeat about 2022, shares of AMN Healthcare have fallen 17% year-to-date.
(Click on image to enlarge)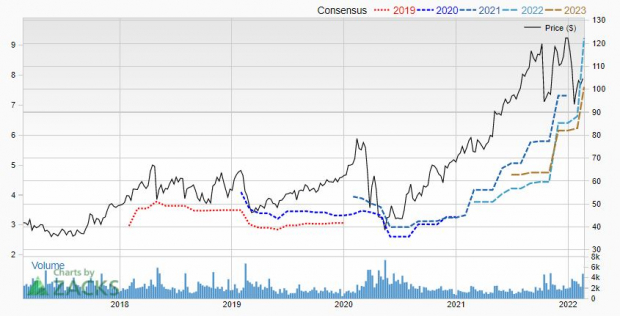 Image Source: Zacks Investment Research
They're cheap, with a forward P/E of 11 and a PEG ratio of just 0.7. Both indicate AMN Healthcare is a value stock, which also has grown.
AMN Healthcare doesn't pay a dividend, but it is doing a share repurchase plan. On Feb 15, 2022, it expanded its stock repurchase plan by $300 million. Including $69 million year-to-date, it has $409 million remaining on its authorization.
For those looking for a way to invest in the growing healthcare industry, AMN Healthcare Services is one to keep on your watch list.
Disclaimer: Neither Zacks Investment Research, Inc. nor its Information Providers can guarantee the accuracy, completeness, timeliness, or correct sequencing of any of the Information on the Web ...
more