Bull Of The Day: American Woodmark
Photo by Joshua Mayo on Unsplash

American Woodmark Corp. (AMWD - Free Report) is riding the wave of stronger housing demand into fiscal 2024. This Zacks Rank #1 (Strong Buy) posted a big earnings beat in the fiscal fourth quarter.
American Woodmark is one of the largest cabinet manufacturers in the United States. It partners with major home centers, builders, and independent dealers and distributors on kitchen, bath, and other cabinets.

A Big Earnings Surprise in Fiscal Q4
On May 25, American Woodmark reported its fiscal fourth quarter 2023 earnings and blew by the Zacks Consensus Estimate by $0.86. Earnings were $2.21 versus the Zacks Consensus of $1.35, for a beat of 63.7%.
It has beaten 3 out of the last 4 quarters.
Sales fell 4.1% in the quarter to $481.1 million with a free cash flow of $61.9 million. For the fiscal year, sales rose 11.3% to $2.066 billion with a free cash flow of $153.5 million.
As of the end of fiscal 2023, on Apr 30, 2023, American Woodmark had $41.7 million in cash plus access to $323.2 million of additional availability under its revolving credit facility.
"The strengthening in our operational performance throughout the year combined with the platform changes we began executing in the fiscal year 2023, gives us the confidence that we can deliver strong margin performance in the dynamic market conditions," said Scott Culbreth, CEO.

Analysts Bullish About Fiscal 2024
American Woodmark gave fiscal 2024 guidance of a low double-digit net sales decline but given the margin improvement, that didn't deter the analysts from raising their earnings estimates.
2 estimates were raised in the last 30 days for fiscal 2024 pushing the Zacks Consensus up to $6.53 from $5.34. That's still an earnings decline of 14.3% because the beginning of last year was still red hot before the housing market froze up.

Shares at 1-Year Highs
Shares of American Woodmark have rallied in 2023, adding 72.2% in the last year. Even just over the last month, shares are up 31%. This follows along with many of the homebuilder stocks that have also had big rallies this spring.
But shares are still lagging compared to earlier in the pandemic. Over the last 2 years, shares are down 12.3%.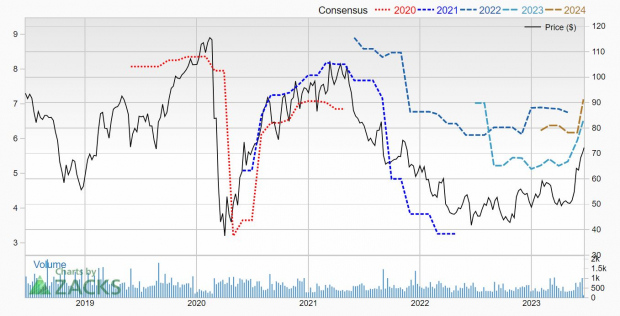 Image Source: Zacks Investment Research
American Woodmark is cheap, with a forward P/E of just 11.
If you're looking for a way to play the pick-up in the housing market without buying a homebuilder, American Woodmark should be on your shortlist.
---
More By This Author:
Tales Of Stock Compounding: Does It Always Work?
Have You Missed The 2023 Stock Rally?
5 Energy Stocks: Values Or Traps?
Disclaimer: Neither Zacks Investment Research, Inc. nor its Information Providers can guarantee the accuracy, completeness, timeliness, or correct sequencing of any of the Information on the Web ...
more