Buffett's Refusal To Split Berkshire Stock Is Creating A 'Y2K-Like' Problem For Nasdaq
After years of lackluster performance, Warren Buffett's Berkshire Hathaway has seen its Class A shares climb 20% so far this year, bolstered by the reflation trade that has sapped tech stocks. But Buffett's old-fashioned resistance to a stock split is creating serious problems for the engineers who maintain Nasdaq's data feeds, which are used by everyone from discount brokerages like Robinhood, to financial news websites that offer live stock quotes.
The problem, according to a report published in Wednesday's WSJ, is that the biggest number that Nasdaq's data feeds can handle is $429,496.7295. However, surpassing that level could create a Y2K-style meltdown, so the exchange was forced on Tuesday to suspend price quotes for Berkshire's Class A shares when they closed at a record high above $421K.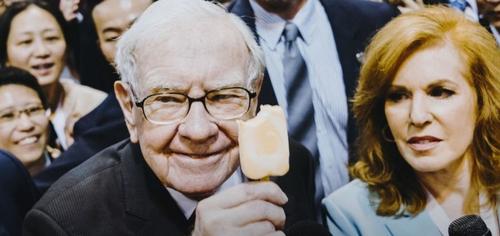 And Nasdaq isn't alone. IEX Group, the upstart exchange profiled by Michael Lewis in his book "Flash Boys", first warned back in March that it would be forced to stop accepting orders for Class A shares "due to an internal price limitation within the trading system."
Nasdaq is scrambling to finish an upgrade within the month that would fix the problem, which stems from the fact that Nasdaq records stock prices in a compact computer format they used for communicating prices. The biggest number the exchange can currently handle is $429,496.7295.
In an alert to clients on Monday, Nasdaq said it would finish an upgrade of its data feeds on May 17 to allow stock prices greater than $429,496.7295. Until then, however, the exchange said it must temporarily suspend publishing prices of any stock that exceeds 98% of this threshold - or $421K, roughly the level where Berkshire's Class A shares are currently at.
James Angel, a finance professor at Georgetown University, told WSJ that the issue is another example of how Buffett's old-fashioned ways can create new costs and disadvantages for traders. Now, Berkshire's outsize share price, driven by Buffett's refusal to split the stock, has forced a time-consuming overhaul of stock-market systems.
"This is but one of the many problems that Berkshire inflicts upon many others by their refusal to split the stock," Angel said, though he cautioned that he continues to have great respect for Buffett.
While it was virtually unheard of years ago for stocks to trade above $100 a share, many companies presently have allowed their shares to trade above $1,000. This group includes Amazon, Chipotle and others. However, no other stock trades anywhere near the per-share prices seen by Berkshire's Class A shares. The US stock with the second-highest share price, home builder NVR is trading just above $5,100 a share.
The engineers who designed Nasdaq's system favored this compact format for a reason: It takes up less memory and therefore can make software more efficient, a high priority in the world of electronic stock trading.
Disclosure: Copyright ©2009-2021 ZeroHedge.com/ABC Media, LTD; All Rights Reserved. Zero Hedge is intended for Mature Audiences. Familiarize yourself with our legal and use policies ...
more