Budweiser Maker Stock Falls Despite Strong Q2 Volume Growth, Earnings Beat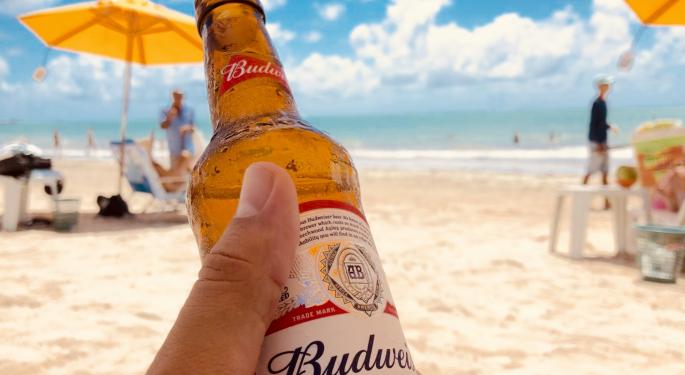 Photo by clementejunio from Pixabay
Anheuser-Busch InBev SA (NYSE: BUD) reported second-quarter FY21 sales growth of 31.5% year-on-year, to $13.54 billion, beating the analyst consensus of $13.54 billion.
On an organic basis, the top-line grew by 27.6%, comprised 20.8% volume and 5.8% revenue per hl growth. Combined revenues of three brands, Budweiser, Stella Artois, and Corona, rose 23.0% Y/Y.
Gross profit expanded 31.1% organically to $7.8 billion, and gross margin increased 152 basis points to 57.8%. Normalized EBITDA for the quarter increased 31% organically to $4.8 billion.
Cash flow from operating activities amounted to $3.9 billion in the half-year period. Net debt totaled $83.4 billion as of 30 June 2021. It reported an Underlying EPS of $0.75 and Normalized EPS of $0.95, versus the consensus of $0.83.
Outlook: Anheuser-Busch InBev reiterated its EBITDA outlook to grow 8-12% for FY21 and its revenue to grow ahead of EBITDA from a healthy combination of volume and price.
Price action: BUD shares are trading lower by 5.33% at $64.97 in premarket on the last check Thursday.
© 2021 Benzinga.com. Benzinga does not provide investment advice. All rights reserved.