Blink Charging: Powering The Electric Ecosystem
It is common knowledge that moving forward, electric vehicles (EVs) will dominate the transportation industry. No matter if the vehicle is passenger driven or self-driven, a passenger vehicle or a commercial vehicle, a Tesla (NASDAQ: TSLA) or a Ford, we know one thing: that everything will be powered by electric fuel.
Blink Charging (NASDAQ: BLNK) is one such company that is contributing to the electric revolution before it became mainstream. Founded in 2009, Blink Charging was one of the few companies that had a vision for slowing climate change by reducing carbon emissions produced by transportation.
A Fully Integrated Package of EV Charging Solutions
The EV charging industry is a very broad ecosystem. There are several business processes involved before a company can market EV charging services to customers. BLNK is the only company in the U.S. to own each part of the EV charging business process, from start to finish. It manufactures and sells the EV charging hardware, operates the Blink Network, and owns and operates EV charging stations across the America and Europe region.
Its biggest competitor, ChargePoint, sells EV hardware and operates its own network, but doesn't own and operate EV charging stations.
Wide Range Of Partnership Models To Ensure Growth
For its EV charging service, Blink offers a wide range of partnership models to suit a partner's requirements. This ensures that the Blink network proliferates while earning stable and predictable revenues.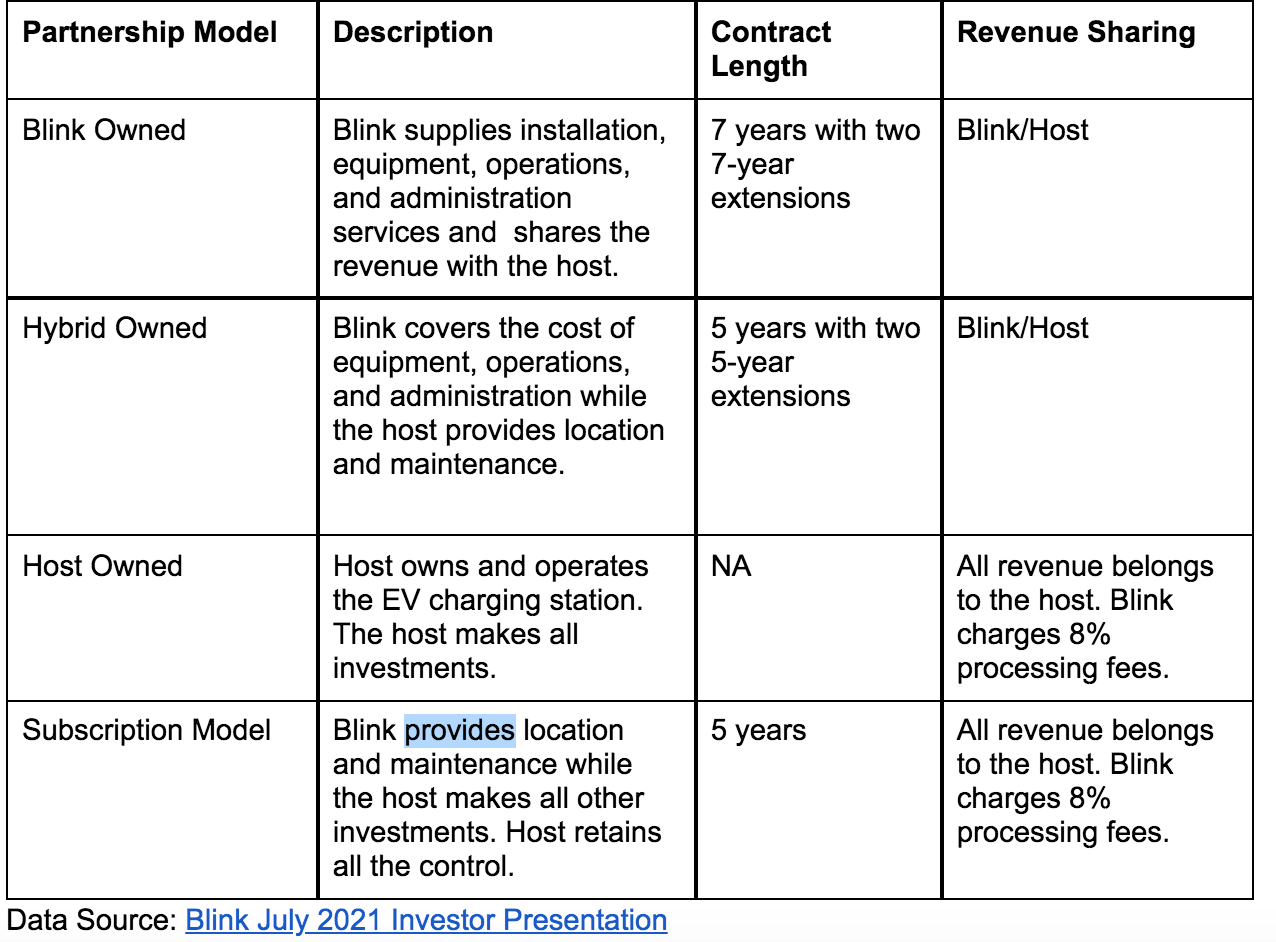 We can see that all the partnership models are long-term contracts, where the host has an option to renew the partnership. The flexible partnership model allows Blink to expand its EV charging network rapidly.
Besides its revenue from the energy sales and processing fees, Blink earns revenue from:
1) hardware sales to hosts and individuals
2) monthly network connectivity fees from each charging station
and 3) advertisements on various platforms, including charging stations and mobile apps.
Blink manufactures a large range of charging sights for both residential and commercial purposes. Currently, it generates the most revenue from its Level 2 range of residential and commercial charging units. It has deployed more than 15,000 units of residential charging ports and more than 9,000 commercial charging units across the U.S. If we go by the unit economics, Blink approximately earns a gross margin of 36% on its product sales. As of May 2021, Blink has also deployed around 200 high-capacity commercial use DCFC ports.
Blink is also developing a portable charger with the same power as its Level 2 commercial charging unit. It is a free-standing and non-networked charger that will be available for sale to individuals. This will play a huge role in reducing range anxiety among EV owners.
Betting Big On Network Effect
As discussed, the flexibility that Blink offers in its partnership program allows it to grow rapidly. Considering only the commercial stations, Blink added around 1,900 charging stations to its network in FY2020, exhibiting a 35% growth amidst COVID-19 disruptions. Blink has a strategic partnership across numerous high-footfall locations such as airports, malls, hotels, parking lots, recreational areas, restaurants, supermarkets, universities, corporate offices, etc.
Some of the known names Blink has a partnership with include Starbucks (NASDAQ: SBUX), Facebook (NASDAQ: FB), ING, Quest Diagnostic, J&J, Penn, Ikea, 7 Eleven, Shell (LON: RDS-A), Four Seasons, Wendy's, McDonald's (NYSE: MCD), Sony (NYSE: SONY), among others.
Blink is aggressively looking to grow its network, betting big on the network effect.
Acquisitions, Partnerships, And Competition
To grow its network, Blink engages in strategic acquisitions. Besides providing growth, acquisitions help it to enter new markets. In 2020, Blink acquired two small EV charger operators, blueLA and U-Go stations in the U.S.
In May 2021, it acquired European EV charging operator Blue Corner N.V., Blink's first major acquisition outside the U.S. This acquisition helped Blink acquire 7,071 charging ports across Belgium, Luxembourg, Netherlands, and France, making its infrastructure footprint stronger in the huge European EV market.
In July 2021, Blink onboarded Traffic and Parking Control, Inc. (TAPCO) as its distributor to sell and market Blink's EV charging stations. TAPCO is one of the U.S.' oldest companies that manufacture, distribute and service traffic and parking control products.
ChargePoint (NYSE: CHPT) is the leader in the EV charging market in North America and is Blink's biggest competitor. While ChargePoint's 2020 sales are almost 20x that of Blink, ChargePoint has low gross margins and revenue growth. It is noteworthy that Blink roped the co-founder of ChargePoint, Mr. Harjinder Bhade, as its CTO in April 2021. Mr. Bhade is a seasoned EV charging executive, and his years of experience as a C-level executive at ChargePoint will add greater value to Blink. It will be interesting to watch how Blink plans to take on the likes of ChargePoint in the coming future.
Valuation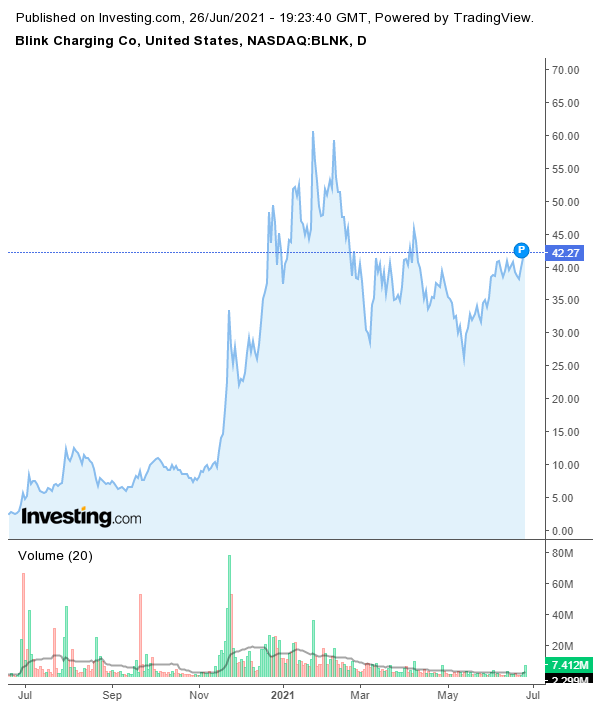 Blink Chart.
Amidst the huge EV wave, BLNK has rallied steeply in the last 12 months. But is it only the wave? Blink delivered triple-digit revenue growth of around 126% and about 256% gross profit growth in FY 2020. The market expects that triple-digit sales growth will continue at least until 2023, predicting FY 2023 sales of $52 million. It brings our forward P/S ratio at 34. Although the ratio is quite high, we should not undermine the growth potential of Blink. We could see a huge amount of cash flowing in Blink as the direct beneficiary of the Bipartisan Infrastructure Framework that allocated $7.5 billion of funds towards building U.S. EV infrastructure, which aims to build 500,000 EV chargers across the U.S. Given that Blink has very little debt on its books and the huge growth potential of the EV market, I do not find any clear catalyst that will justify a decline in the company's valuation.
Blink seems likely to continue to enjoy high valuations, and its share price may well soar as the company continues to grow its network.