Blink Charging: Powering The Electric Ecosystem
It is common knowledge that moving forward, electric vehicles (EVs) will dominate the transportation industry. No matter if the vehicle is passenger driven or self-driven, a passenger vehicle or a commercial vehicle, a Tesla (NASDAQ: TSLA) or a Ford, we know one thing: that everything will be powered by electric fuel.
Blink Charging (NASDAQ: BLNK) is one such company that is contributing to the electric revolution before it became mainstream. Founded in 2009, Blink Charging was one of the few companies that had a vision for slowing climate change by reducing carbon emissions produced by transportation.
A Fully Integrated Package of EV Charging Solutions
The EV charging industry is a very broad ecosystem. There are several business processes involved before a company can market EV charging services to customers. BLNK is the only company in the U.S. to own each part of the EV charging business process, from start to finish. It manufactures and sells the EV charging hardware, operates the Blink Network, and owns and operates EV charging stations across the America and Europe region.
Its biggest competitor, ChargePoint, sells EV hardware and operates its own network, but doesn't own and operate EV charging stations.
Wide Range Of Partnership Models To Ensure Growth
For its EV charging service, Blink offers a wide range of partnership models to suit a partner's requirements. This ensures that the Blink network proliferates while earning stable and predictable revenues.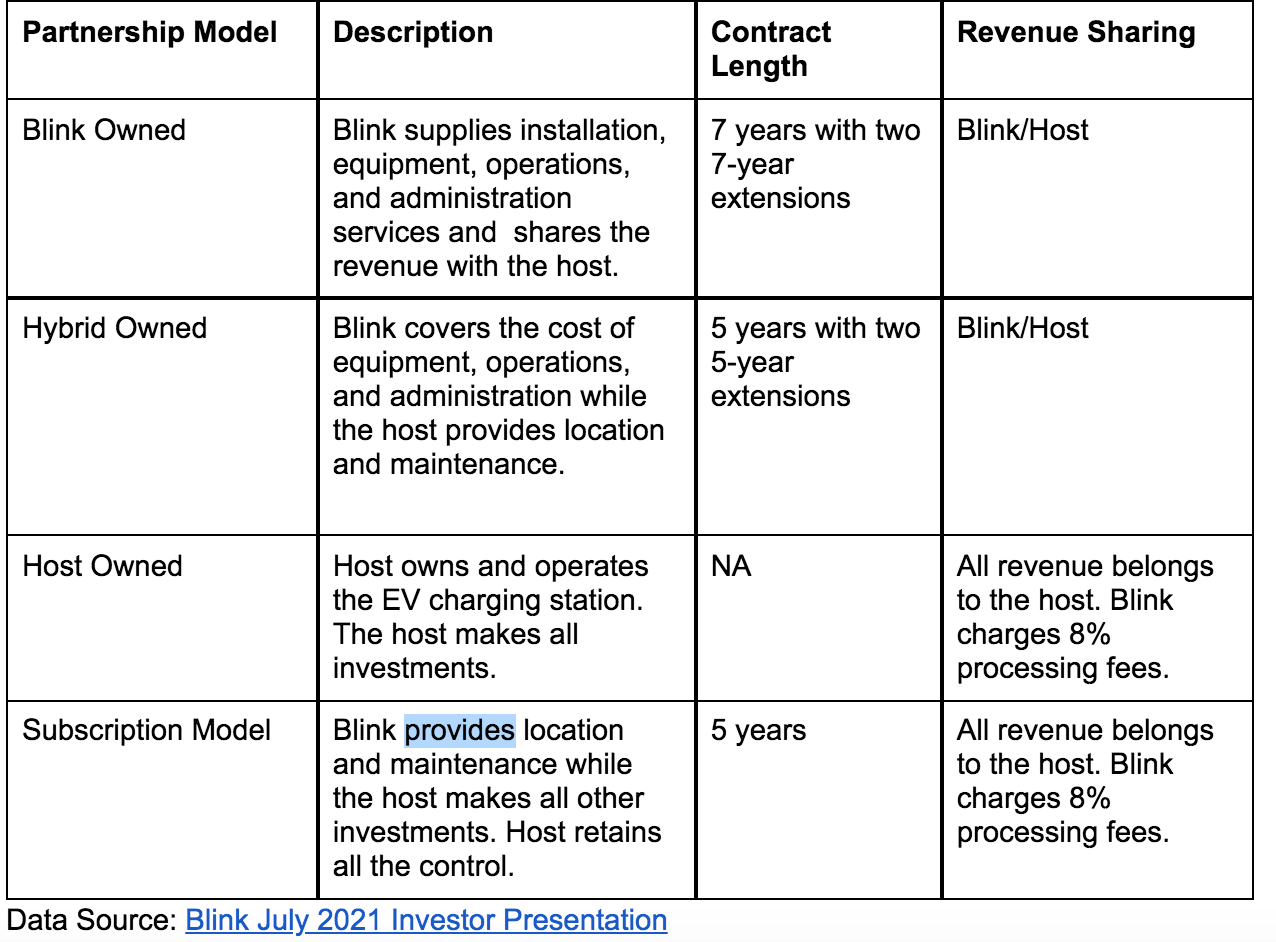 We can see that all the partnership models are long-term contracts, where the host has an option to renew the partnership. The flexible partnership model allows Blink to expand its EV charging network rapidly.
Besides its revenue from the energy sales and processing fees, Blink earns revenue from:
1) hardware sales to hosts and individuals
2) monthly network connectivity fees from each charging station
and 3) advertisements on various platforms, including charging stations and mobile apps.