E

Betterware: Better Where It Counts
Betterware de Mexico (BWMX) is a relatively small company with a market cap of about $1 Billion and strong financials. The company began trading publicly last year via a SPAC. Betterware is a direct-to-consumer company operating in Mexico. The company focuses on home and life improvement products priced for the lower tier of the Mexican middle class. While the Mexican peso has a long history of losing value versus the dollar, its growth prospects are strong enough to compensate for the impact.

Source: Betterware
In 2020 the pandemic reduced foot store traffic, and people spent more time at home, leading to increased demand for Betterware products reflected in the 2020 revenue growth. The pandemic will likely continue throughout 2021 in Mexico, and the company will likely experience similar o greater growth this year.
How is Betterware different?
Betterware functions similarly to other successful DTC companies by compensating the people who sell their products (distributors) by how many products they sell. Their relatively new app employs a system similar to Uber´s (UBER) to manage last-mile delivery of products. When anyone buys a product via the Betterware app, any distributor with the item and close to the customer can deliver it and gain the corresponding fee.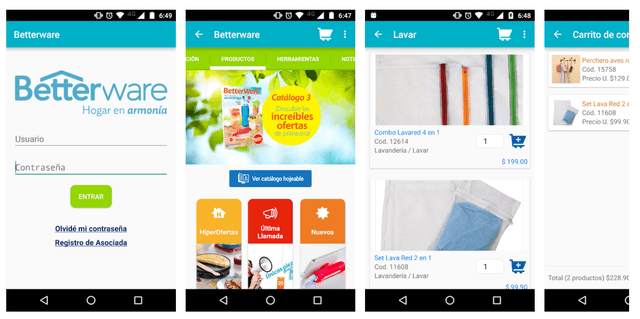 Source: Google Play Store
The system allows Betterware to maintain low inventories and a very effective last-mile distribution system with minimal operational expenditure. It also reduces the marketing expenses. As distributors do not have fixed compensation, labor costs are very flexible, which is valuable in uncertain times.
Why now is a good time
The same driver pushing Amazon(AMZN) and MercadoLibre (MELI) to the top side of the estimates during the pandemic will allow Betterware to perform on the estimates' topside in 2021.
There are currently many restrictions in Mexico for stores to open. It is unlikely that these restrictions are lifted any time soon as the country's vaccination plan extends into 2022. As traditional stores are constrained by the pandemic, online shopping will increase. However, the Mexican market typically uses cash and has limited access to credit or debit cards, especially in the population's lower-income segments.
Disclosure: I am long BWMX, AMZN, MELI