Berkshire Hathaway Stock Price At Record Highs Ahead Of Q2 2021 Earnings
Berkshire Hathaway (BRK-A) (BRK-B) releases its Q2 2021 earnings this week. There are plenty of buyers ahead of the release as the equities bull run continues.
Berkshire Hathaway should need no introduction as the investment vehicle of legendary investor Warren Buffett. The company is set to release its Q2 2021 earnings this week and its stock price is trading close to record highs in anticipation.
There are two types of shares – Class A and Class B — which perform similarly but are subtly different.
The Class A shares are much more expensive than Class B shares, with one Class A share trading at a prohibitive $418,690 at the time of writing. As such, Berkshire issued over 500,000 Class B shares in 1996 so that ordinary investors could invest in the company at a much lower price. In time, the ratio between the two types of shares exceeded 500.
(Click on image to enlarge)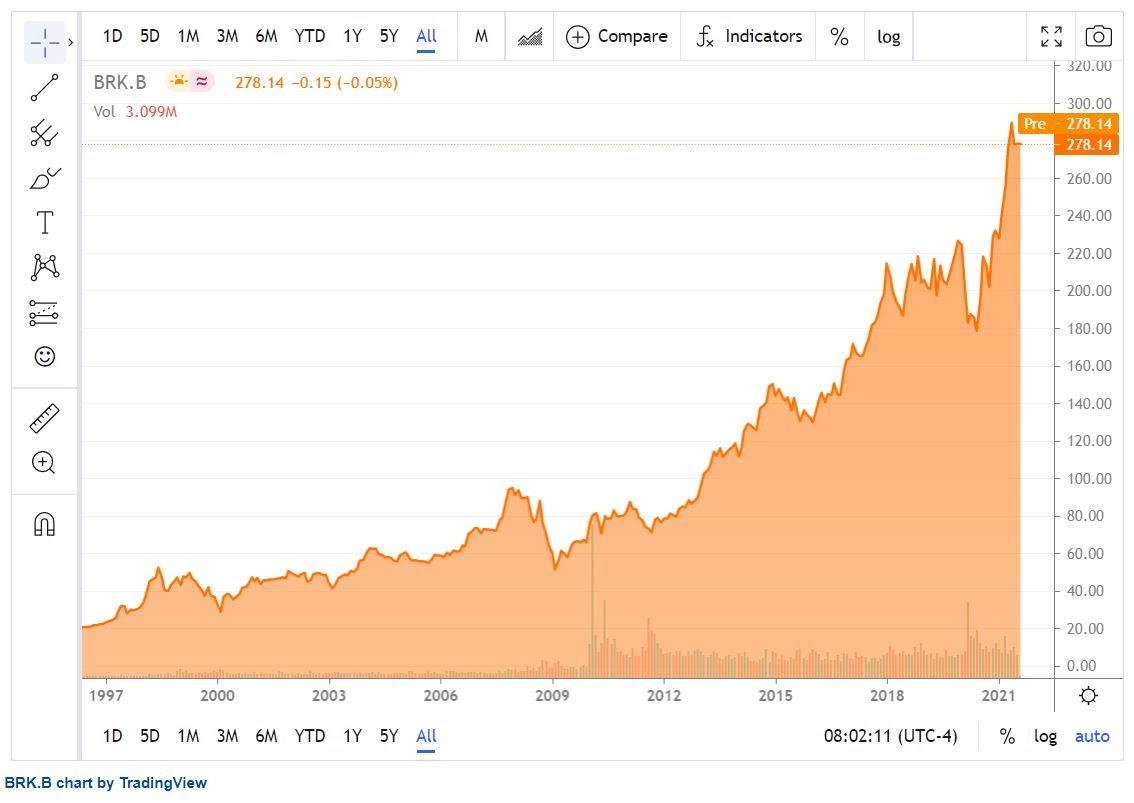 While the Class B shares may split again in the future, the Class A shares will never be split. On the downside, Class B shares carry lower voting rights than Class A. On the upside, Class B shares can be purchased directly rather than via unit trusts.
What to Expect Ahead of the Q2 2021 Earnings
Berkshire is one of the world's best-performing investment companies. Buffett has managed to lead the company to impressive compounded annual growth rates (CAGR) over the years in both bullish and bearish markets.
However, Berkshire surprised investors with some interesting moves during the coronavirus pandemic:
It sold its stakes in the US airlines, which seems strange in hindsight.

It invested in Barrick Gold last year, probably spooked by the prospects of rising inflation, and then sold its stake.

It invested about 10% in five Japanese trading houses.
All these decisions sparked controversy but the Berkshire stock price was not affected.
Ahead of the Q2 2021 earnings, Berkshire shares trade at a P/E Non-GAAP (TTM) ratio of 28.53, which is higher than the sector median by 156.52%. The market expects earnings-per-share (EPS) of $3,780.17 for the quarter.
Disclaimer: None of the content in this article should be viewed as investment advice or a recommendation to buy or sell. Past performance/statistics may not necessarily reflect future ...
more